Business Profile: Brewster Ice Arena, Brewster
We are part of The Trust Project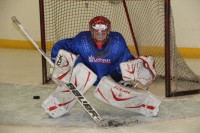 Following his older brothers on to the ice, Steve Santini started his life with hockey at five-years-old. He went on to play Division I hockey for the University of Maine then, after graduation, for a few months in Italy before coming back to start The Long Beach Arena with his father, Bob, in 1987.
According to Santini, in 1994 there was a boom in interest in both ice hockey and especially figure skating due to the publicity trifecta of it being a Winter Olympic year, the New York Rangers winning the Stanley Cup, and the media frenzy caused by the notorious Tanya Harding/Nancy Kerrigan incident.
"All the ice rinks got busy because there was so much publicity," Santini said. "Although it was a terrible incident it was all over the news and all of a sudden… people wanted to ice skate, figure skate, play hockey."
With the northern Westchester/Putnam area "starving for a private facility" ice rink, Santini and his father met with engineer and land owner Jim Hahn who, according to Santini, was looking to build a sports facility. They opened the Brewster Ice Arena in 1997.
Located at 63 Fields Lane in Brewster, the three-level, 90,000 square foot facility has two regulation sized ice rinks, a studio rink, a bar, restaurant, banquet facility, and a gym. Although associated with winter, the rink is open year round and makes a great way to cool off in the summer where recreational skaters and birthday parties pretty much "have the whole facility to themselves." The Arena offers skating lessons for all ages and, of course, hockey opportunities for all ages and levels.
The rink was chosen to be a host for the New York Rangers Program, designed to promote love of hockey and the team. The program has an introductory class for kids and in past years has given out jerseys and sticks bearing their logo. For Santini, it offers a forum with other owners to discuss how to make the course, "the most fun it can be for the kids to keep them involved in the sport for a long time."
"The New York Rangers have been great about getting involved with the rink. They want to grow the sport as much as we do and they've been really tremendous about providing materials, literature, and jerseys for the kids, setting up the programs, guidelines to follow for the program. It's just a fun way to get kids to learn the basic skills of ice hockey after they're proficient enough to skate unassisted."
In general, kids start on the ice as early as three, where the goal is, "to adapt to the ice and make it fun for them." Some kids are playing hockey and figure skating as young as four. According to Santini, they've had, "a ton of kids… that are dedicated that have gone on to college scholarships."
This can lead to parents wanting to try the sport, which can lead to a lifelong healthy exercise.
"A lot of them will come to public sessions and skate with their kids," Santini said. "Once they get proficient enough, generally they'll join the adult league…. I've seen some 30-year-old dads who've never played the sport before jump into an adult beginner class for three or four months, get the bug, we get them on the men's league team. We start them out in D division. Before you know it it's a couple years later they're playing in the B division."
Santini's father, Bob, started in his mid-30s, around the time five-year-old Steve was getting started. Now 80, he plays in six tournaments a year.
"I've read articles that say, other than swimming, ice skating and hockey are the best exercises for your entire body," Santini said.
For more information on Brewster Ice Arena, please call 845-279-2229, or visit brewstericearena.com.
By Larry Miles