Business Profile: Body Beautiful of NY, Mount Kisco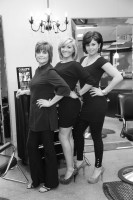 After establishing a firm presence in the Brewster area for 10 years, Body Beautiful of NY has moved to Mount Kisco, offering a one-of-a-kind spa and salon experience to its customers that not only pampers the body but offers healing relief as well.
Co-owned by Alison Orlando, a 33-year veteran of the beauty and wellness industry, the spacious salon has much to offer, including hair styling, pedicures, manicures, facials, body treatments, massage, nutritional counseling and a range of healing treatments that include the practice of Reiki and Chakra, ear candling, Raindrop therapy, a form of mind/body cleansing, and spiritual readings.
Orlando's two daughters, Ginéann and Regina Creaney, are also involved in this growing business, taking after their mother, who is a licensed aesthetician, cosmetologist, reflexologist and nutritional counselor.
Ginéann Creaney is also Orlando's business partner. Her sister, Regina, runs the front desk and is also a hairstylist, nail manicurist and provides waxing treatments. A number of other stylists provide various services throughout the salon.
A native of Riverdale, Orlando received her education at the now-closed Woodford Beauty School in Manhattan, and later won a scholarship to the prestigious Christine Valmy International School of Esthetics, where she completed her studies.
For many years, she worked with a number of dermatologists in the Westchester County area, providing patients with a full range of skincare treatments, including microdermabrasion, a powerful exfoliation and anti-ageing treatment. She also worked at several beauty salons in Danbury, Conn., specializing in manicures, pedicures, makeup application and hairstyling.
But soon after that, Orlando, who is licensed in both New York State and Connecticut, decided to combine all of the skills she had acquired over the years into one business, creating the Body Beautiful brand.
At the heart of that brand is the way Orlando and her staff treat clients and are cognizant of their needs. "We're a family and we want our customers to be part of that family too," said Orlando, who has a passion not only for the beauty business but for helping people look and feel better.
Of course there are lots of ways that the Body Beautiful staff can make its customers look fabulous, but some of the most popular treatments include eyelash extensions, which are meticulously applied by Ginéann Creaney, a certified NovaLash lash stylist, as well as being a licensed cosmetologist and aesthetician.
Creaney, who also works two days a week in an eyelash extension salon in New York City, is well known for her artistry, said her mother. Unlike the eyelash strips that can be purchased in local drugstores, the eyelash extensions that Body Beautiful customers get are weightless and very similar to one's own natural lashes, explained Orlando, a Stormville resident.
The application takes approximately 1 and ½ hours, depending on the number of lashes being applied. Customers are advised to come back every three to four weeks for touch-ups. In addition, Body Beautiful also offers eyelash tinting, suitable even for the fairest of lashes, eyebrow tinting and eyelash perming, creating the look of long, luscious lashes.
While 20 percent of Body Beautiful's business currently comes from its male clients, Orlando is confident that number will increase. "A lot of our male clients feel awkward at first," said Orlando, but once they experience the pampering that Body Beautiful offers, Orlando said many of them return again and again.
In fact Orlando has devoted an entire section of the Body Beautiful brochure to "Special Services….Just for Him." Some of the more in-demand treatments include pedicures, facials and waxing treatments.
In addition to making the body look beautiful on the outside, Orlando has also created a holistic approach to total body wellness by offering nutritional counseling to her customers. The salon has partnered with The M'lis Company, which offers a number of holistic health programs to address weight loss, fibromyalgia, Candida and arthritis.
At Body Beautiful, customers will find an array of products addressing such issues as well a number of M'lis nutritional shakes and supplements to choose from.
In her quest to offer only the best for her customers, Orlando, a Reiki master, promotes organic products whenever possible. Even Body Beautiful's spray tan solution is organic, added Orlando, a solution that is made up of grape and apple, in addition to the organic hair color line, Schwarzkopf.
"Everything I've educated myself in has been linked together here at Body Beautiful," said Orlando. "If I didn't believe in it all, I wouldn't be drawn to it."
Body Beautiful is located at 175 East Main Street, Suite 201, Mount Kisco. The salon is open 10 a.m. to 5 p.m. on Tuesday, 9:30 a.m. to 8 p.m. on Wednesday and Thursday, 9:30 a.m. to 7 p.m. on Friday, and 9 a.m. to 5 p.m. on Saturday. The salon is closed Sunday and Monday. For more information, visit www.bodybeautifulofny.com or call (914) 218-3500.