Business Profile: Blue Remedy in Mahopac
We are part of The Trust Project
Partners Alexis Tierney and Gina Latini opened Blue Remedy, a hair salon in Mahopac, in 1999 and will be celebrating their 14th year in business this November. They met 25 years ago working at a salon in Kingsbridge.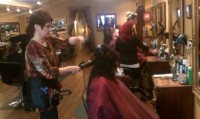 "I always considered myself a creative individual," Tierney said. "I consider myself a visual person. I just love to create different styles of looks. It's always kind of been in my genetic makeup. I just like to be creative.
"You meet a lot of great people. It's just a lot of fun, I have to say. I never considered myself a 9-to-fiver. I always liked jobs that are flexible. So this is perfect."
Being a hair stylist means keeping up with current trends.
"Your clientele is looking for something new and different," Tierney said. "They're looking to follow the trends. We're on point with the trends. There are definitely individuals that want a more creative look and we work with them to create that.
"The current trend right now, we're going back to the long, curly hair. We went through the whole phase of everyone wearing their hair straight and now we're getting back to people having body in their hair.
"I see a lot of disconnected haircuts where the sides and underneath are being shaved. It's definitely getting to be a little more creative now, especially in the media, with everyone shaving their sides and backs. [Pop singer] Rihanna is the one who started it. I mean, it's not like it wasn't done before. We had that look back in the 80's. I actually had that look back then. It's making its way around again."
Celebrities play a huge part in setting those trends.
"Rihanna definitely is one," Tierney said. "For the younger generation, they're obsessed with Miley Cyrus. A lot of the bobs, a lot of the women came in because of that cute little pixie, Michelle Williams."
Hair coloring is currently very popular.
"Most of our clientele gets their hair colored," Tierney said. "We're very big on coloring and we use Aveda hair color."
Blue Remedy is an Aveda Concept Salon using only Aveda hair, skin, makeup, and coloring products. Aveda products use organic, naturally derived ingredients.
"It's 97 percent natural which is really important, not to being using all those harsh chemicals that go into your bloodstream," Tierney said. "You want to use something that is gentle as possible."
Of course, the social aspect of the salon is very important.
"Your clientele comes to you for advice," Tierney said. "For their hair firstly, but then you get to know your guests. You get to know about their lives, they get to know a little about you. It's definitely a social atmosphere but we keep it professional. It's a nice way to get to know people."
Though Tiernery is quick to add, "We don't gossip at Blue Remedy. We exchange information."
It's important to take your time when choosing your stylist.
"Communication is the most important part of getting to choose your hair dresser," Tierney said. "Someone who will listen to you, communicate with you, has time for you, that's really important. So I always recommend getting a consultation before you book an appointment.
"There's a fit. You should know in 10 or 15 minutes if you like the person, the hairdresser. You kind of get a feel for who they are, you see the way they look and that's always a smart thing to do than just walking in and saying, 'I want a haircut' and you don't know who you're getting."
Blue Remedy is located at 912 South Lake Boulevard in Mahopac, phone: 845-621-1022, and at blueremedy.com.