Business Profile: Berkshire Hathaway Home Services, Croton and Peekskill
We are part of The Trust Project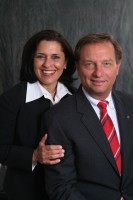 Croton residents Cynthia and Joseph Lippolis insist the real estate industry is a hard one to be successful in, but they have managed to excel in the field for nearly three decades.
"It's a seven day a week job," Cynthia said last week. "It never ends. It goes on from seven in the morning to midnight and it's a lot of work."
"It's unique. You interact with a lot of different people and when you're doing a transaction, whether it's residential or commercial, you're dealing with attorneys, you're dealing with municipalities. There's a lot of moving parts," Joseph said. "You have a lot of things that potentially could go wrong."
Having high standards is a major reason for their success, Cynthia said. "We make sure everything goes right, legally, ethically," she emphasized.
"The key, though, to anyone's success, especially in the real estate market, is the people that you surround yourself with," Joseph said. "We have a great staff of people."
Joseph said there is a culture set in the couple's real estate business. "You have to be ethical and you have to be fair," he said. "Our staff is proud to work here. We've had very little turnover."
About 90 percent of their business is dealing with residential properties and the rest of their business deals with commercial properties, Joseph said. One of the two office's specialties is working with individuals relocating to the area, Cynthia noted.
The couple generally works with properties in Cortlandt and Putnam County. Cynthia mainly manages the Croton office and her husband usually manages the Peekskill office.
The Croton office opened in 1998 and the Peekskill office opened four years later. Cynthia began her career in real estate in 1986 and her husband followed her into the profession in 2001. Previously he was employed in the food industry, working in management.
Cynthia said the real estate business has changed since she first entered the field. "You have to know the coding from all the towns and all the town ordinances," she said, adding real estate owners must know everything about the property they are buying or selling. "There's a lot more to it" that there was in the mid-1980s.
Since December, the couple, which has been married for 43 years, has been part of Warren Buffet's Berkshire Hathaway international chain. "It's pretty prestigious and we're really proud to be part of that," Joseph said. "It was by invitation. Their standards are pretty high."
The couple has seen signs of a turnaround in local real estate since November 2014. "It was very slow coming," Joseph said. Improving consumer confidence over the past two months has also helped the local real estate market, he said, adding fear of potential job losses had previously hurt the market. Another help has been the loosening up of loan restrictions, he said. "Credit has been the problem," Cynthia said.
The couple has two daughters who are in their 30's – Danielle and Elizabeth — and five grandchildren. Neither daughter works in real estate. "We tried" to get them into the business, Cynthia quipped.
Though they devote long hours to their business, the couple still finds the time to be "very heavily involved in our community," Cynthia said. Some of the organizations the couple has been involved with include Rotary Clubs and the Salvation Army.
As part of their work with the Gift of Life program, they had a young child from Ecuador live with the family after having heart surgery.
The Hudson Valley Chamber of Commerce had named the duo the Volunteers of the Year.
"We just want to give back to the community," Cynthia said. "Not a week that goes by that we're not involved in something."
Cynthia and Joseph Lippolis, own Berkshire Hathaway Home Services offices in Croton and Peekskill. The Peekskill office is located at 983 Main St. and move information can be obtained by calling 914-739-5300. The Croton office is located at 133 Grand St. and for more information call 914-271-3300.