Business Profile: Bella Moda Hair Design, Mahopac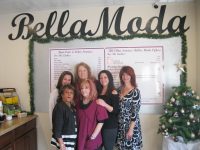 Mahopac resident Serena Calicchia said bella moda is an Italian phrase that means beautiful style.
Since 2010, Calicchia and her employees have been providing beautiful hair styling at Bella Moda Hair Design.
Calicchia took ownership of the business on Route 6 in Mahopac from the previous owner of Bella Moda, but on the upstairs floor of the building.  The establishment was moved to the bottom floor and opened on Oct. 4.  The new space is bigger and better, Calicchia said last week.
Calicchia was a hair dresser for many years before she decided to own Bella Moda and she still receives pleasure as a hair stylist ."It's social. It's not work to me. It's such a great, friendly atmosphere," she said.
Calicchia said she wanted to own her own business since she was a child.  "I just didn't know what kind of business and then when I went to hair school it just ended up working out," she said.
Bella Moda provides a wide variety of services. For men, haircuts and hair dying and shaves are offered. For women, some of the several services include highlights, hair coloring, permanents, hair relaxers, and cuts. "We do everything. It's full service," Calicchia said, adding facials and body waxing are also offered. Several bridal packages are offered both on and off site.
Calicchia said aside from Mahopac, her customers "come from all over," including Somers, Katonah and Briarcliff.
Bella Moda holds fundraising events every year for breast cancer awareness, and for the fight against autism, "I'd like to get more involved with other fundraisers," Calicchia said.
Calicchia said her goal for her business was a simple one. – "Just to keep building it."
Calicchia said there were several keys to the success of her business. "We keep our prices pretty fair for our area," she said. "We build relationships with our clients. There are a lot of longtime customers."
Her staff is also critical to the success of the salon, Calicchia said.  "The people who work here are amazing. They're loyal. They're really great hair dressers and I value that they work here," she said.
Bella Moda Hair Design is located at 271 Route 6 in Mahopac. For more information, call 845-628-6667 or visit http://www.bellamodahair.com