Business Profile: Baldwin Golf Center, Baldwin Place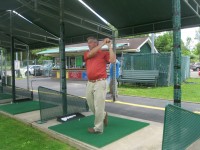 Yorktown resident Rocky Cambareri has been a regular on local golf courses since he got a job at the Mohansic Golf Course at the age of 11. He translated his passion for golf into his profession.
Cambareri, a PGA member, is one of the owners of the Baldwin Golf Center, which is located in the Baldwin Place section of Somers near the Putnam County border. He is the head golf professional at the center.
The ownership group purchased the property earlier this year and opened their new endeavor on April 6. The group renovated the property, which was previously owned by National Golf Worx and had been closed for about two years. "The facility was here. The infrastructure was here," he said. "It just required a lot of clean up and some minor renovations."
Baldwin Golf Center provides a driving range, club repair, lessons, and sales of golf supplies. A sand trap was recently created on the site and a renovated putting green is set to open in a few days, Cambareri said. The facility will be open this year "as long as the weather will permit," he said.
Much effort is required to become a PGA member, Cambareri said. "There's a couple hundred hours worth of course study. There's a Players Ability Test. There's an apprentice program. Like many other professions, you have to pay your dues," he said. "I grew up under the tutelage of John Paonessa, the head pro at the Mohansic Golf Course."
Cambareri jokingly recalled that he wanted to work at Mohansic as a youth because "it got me out of my mother's restaurant." For about 30 years his mother, Erminia Cambareri, owned Erminia's Restaurant in Yorktown.
Cambareri said he has competed in several golf tournaments in the local area "and up und down the east coast." He worked as a golf pro at several local clubs in Westchester and Putnam counties prior to coming to the Baldwin Golf Center.
Cambareri said one of the pleasures of his job is training new golfers, which he has been doing for two decades. "We see new golfers every year and we develop programs to teach the game and promote the game," he said. "As a PGA member, one of my priorities is the development of the game, developing new golfers."
Cambareri said he has great satisfaction from training junior golfers who played in high school and some who have earned college scholarships and even become PGA member "similar to the way I got started in the business."
Baldwin Golf Center is located at 57 Route 6 in the Baldwin Place portion of Somers, near the Putnam County border. For more information call 914-628-GOLF or send an e-mail to Rockypga@aol.com.