Business Profile: Awesome Items at the Collectors Station
We are part of The Trust Project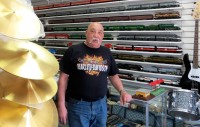 By Jon Craig
Joe Mazzullo has been a combat helicopter crew chief, volunteer fire chief, police traffic coordinator, brass musician and model train enthusiast. Add hobby shop owner to that lifetime bucket list. He opened his store earlier this month as Awesome Items at the Collectors Station.
Mazzullo, 63, of Mamaroneck is known by nearly everyone in Harrison as director of the Westchester Brassman Drum & Bugle Corps, American Legion Post commander and more than three decades of service with the Harrison Fire Department and Police Department, where he recently retired as an employee of the traffic division.
Mazzullo seized on the opportunity of more spare time, and open retail space a block away from the Harrison Train Station, to move his workshop and massive collection of trains, sports and military memorabilia, amplifiers, guitars and rare snare drum sets, among other "awesome items," from his home to 229 Harrison Ave. "I had everything in closets and I couldn't remember what I had," he said.
In addition to train sets and musical instruments, which line about two-thirds of the store's shelves and floor space, the collector is selling German helmets, a helmet signed by the Giants' Frank Gifford, a not-as-rare series of toy Hess gas trucks/vehicles and other time-tested collectibles.
Individual model train cars and engines range in value from $25 to $500. A full train set might sell for $3,000. An original cardboard box for each train car, if in good condition, may sell for $100. Mazzullo sometimes can buy a box alone to package one of his unused cars. He encourages people with trains in their attics to come get estimated values at his shop, since he's got plenty of up-to-date catalogs with competitive prices.
Last week, Mazzullo was buying as many unique engines as he was selling as word spread among train enthusiasts that his store had opened. "I'm always looking for something that's elusive," he said as customers strolled through the store to marvel at chandeliers and a football signed by Dan Marino of the Miami Dolphins.
The bulk of Mazzullo's business has been on eBay, which he continues to use for out-of-town collectors and finding parts he needs to fix trains, transformers and other gadgets in his workshop.
Mazzullo said he became a serious collector of trains and other memorabilia about 15 years ago. "I was always good with my hands," he said, dating back to his military service as a helicopter crew chief during the Vietnam War.
He's played with various drum and bugle corps for 55 years, volunteered as a firefighter for 43 years and retired from the Harrison Police Department after working for its traffic division for 31 years. So he has a long track record, pun intended, of sticking with projects.
For now, Mazzullo prefers to meet with customers by appointment only, but the store is open anytime he's in his Harrison Avenue workshop. "I'll be here until 9 o'clock," he said last week.
For details, call 914-439-6662, or email wbrassman@optimum.net