Business Profile: Anthony's New York Hotdogs & More, Harrison
We are part of The Trust Project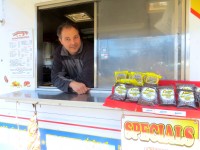 Wherefore Art Thou, Romeo? In Harrison, of Course; Lunch Truck Has Hot Business at Either End of Town
 By Jon Craig
The return of songbirds is music to Anthony Romeo's ears. The owner of two hot trucks operated in the Town of Harrison was all smiles last week. The first rays of spring sunshine popped out along Route 120 in Purchase as well as along Westchester Avenue near Rye Brook. And at both locations, customers flocked to Romeo's food franchise like migrant geese.
Romeo, 44, began selling food from his first hot truck, at 120 Lockwood Ave. in his hometown of New Rochelle, in 2005. He previously worked as a printer for his father.
The mobile catering business operates as Anthony's New York Hotdogs & More.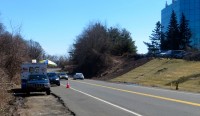 His second truck opened for business near 2975 Westchester Ave., Harrison, in 2006. Romeo's third truck will celebrate its one-year anniversary next month near Westchester County Airport, also within the Town of Harrison.
If you're just passing through town, or area lunch prices have gotten you down, a meal at one of Anthony's trucks can range from $2.25 for a plain hotdog, to $7 for a sausage & pepper or Philly cheesesteak hero.
The truck's most popular offering is "Anthony's Texas chili, a recipe I perfected over the last seven years," Romeo boasts. Roadside customers can order the chili on their hotdogs, hamburgers, sausage or fries.
Romeo also sells hot and cold beverages, candy, chips and even Linden's cookies ­— the locally produced baked goods that date back to 1934 in Scarsdale. Romeo said he met the Sturz family, which bought the pastry company in 1960 from the Linden brothers when they were based in White Plains. The cookie factory now operates out of Congers in Rockland County.
Romeo praised Harrison police and other town officials for working with him at his roadside locations.  The small business owner said he was driven out of Port Chester about two years ago because a local newspaper (not The Examiner) perceived his mobile catering truck as competition to some of that city's thriving restaurants. His city permit wasn't renewed in Port Chester.
Romeo's peak hours are 11 a.m. to 2 p.m.
One truck parks along Route 120 in Purchase just south of Westchester County Airport. (The exact address is 4579 Purchase St.)
The other Harrison truck parks across from 2975 Westchester Ave. Its physical location is actually along Webb Avenue, just south of Westchester Avenue's intersection with Route 120, and north of Bowman Avenue.
If standing by a busy roadway for Romeo's popular fare is not ideal, he also offers a catering business for children's parties, sports events, business promotions and other special occasions. In addition to the chili, Sabrett hotdogs, spicy sausage and hamburgers, the catering business includes Italian ices.
For details, visit www.AnthonysNYHotdogs.com or call 914-224-7186.