Business Profile: A Maze in Pottery, Briarcliff Manor
We are part of The Trust Project
A creative adventure awaits anyone who finds themselves in Briarcliff Manor's A Maze in Pottery.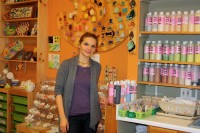 The idea for this wonderful studio/store was originated by Aggie Shah, who has a background in art and ceramics, having run an interior design business and pottery studio in her native Poland before immigrating to the United States in 2006.
"I wanted to create a warm, friendly environment where people could unleash their creative juices," Shah said.
Choosing an object to paint might be the hardest part of the fun process, with about 300 pieces of unpainted bisque pottery items available, including coffee mugs, piggy banks, vases, small holiday ornaments and various novelty items.
There are assorted types of paints that are displayed on an easy-to-access shelf. Shah carries close to 50 types of non-toxic, lead-free under-glaze paints and lots of artistic special-effect glazes as well.
For little ones who don't yet know how to read, a small palette is available for them to look at. Once the colors have been chosen, Shah and her staff provide a brush and sponge and let participants have fun.
There are additional stencils and stamps to enhance each piece, inspiring creativity in those who wouldn't normally consider themselves artists, Shah said.
Visitors to A Maze in Pottery pay for the pottery pieces as well as an additional $8 studio fee, which covers the paint, glazing, firing and usage of the tools and materials. Pottery items start at $4, with the average piece priced between $15 and $25.
Samples of finished products are on display throughout the store to give participants an idea of what they might look like once glazed and fired. Budding artists can also derive inspiration from "idea books" that Shah makes available.
All of the functional pieces in the studio, including bowls, cups, plates and mugs, are dishwasher and microwave safe.
Shah and her staff take the painted pottery items and fire them in a kiln at 2,000 degrees Fahrenheit. The firing process, which takes place at the back of the studio, lasts about 12 to 24 hours. Since it opened in 2010, Shah has watched children as young as two or three years old delight in the creative process.
The studio offers daily specials, including painting sessions for preschoolers every Tuesday with no studio fee; a half-price fee for students of all ages every Wednesday; a half-price studio fee for seniors each Thursday and a happy hour session on Thursdays and Fridays from 6 to 8 p.m. that includes the half-price studio fee and a Bring Your Own Bottle requirement.
Walk-in customers are always welcome, Shah said. No appointments are necessary unless the group is larger than five people.
The studio has become a favorite spot for children's parties, and has hosted celebrations such as family reunions, bridal and baby showers, girls night out celebrations, corporate outings and wine tasting events.
Shah has taken her pottery studio beyond Briarcliff, offering classes at local public schools, libraries, senior centers, special education facilities and local scout troops. Her pieces have been used to satisfy an array of gift ideas, many of them personalized and adapted to specific themes. They include gifts for teachers and coaches, wedding and anniversary platters, foot and handprint pieces and Bar and Bat Mitzvah signature platters. Shah personally creates pet portraits and custom house platters.
"Most of my customers are here to have fun," said Shah. "And that's the way it should be."
A Maze in Pottery, located at 76 North State Rd., is open Tuesday, Wednesday and Saturday from 10 a.m. to 6 p.m., Thursday and Friday from 10 a.m. to 8 p.m. and on Sundays by reservation only from 11 a.m. to 5 p.m.
For reservations or to book a party, call 914-502-0088 or e-mail aggie@amazeinpottery.com. Find more information, visit www.amazeinpottery.com.
Colette Connolly is a copywriter and p.r. expert. She owns Connolly Communications, which is based in Bronxville, New York. Colette specializes in providing content-rich, SEO-optimized press releases, articles, newsletters, brochures, and customer success stories.