Business Profile: Tompkins Garage, Yorktown Heights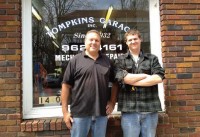 What makes an automotive shop successful after eighty years? Its service, its friendly attention to customers and its reputation.
Tompkins Garage has all this and more to offer to the Yorktown community and surrounding areas.
Tompkins Garage was established in1932. Owner Jim Tompkins acquired the business from a family relative in 1988. When Tompkins Garage was originally built it was meant for fixing wagons, tractors and Model T Fords. Today they are servicing late-model automobiles.
The auto body and mechanical repair shop continues to serve the community by being a part of the Huntersville association and was there before the Croton Dam was built. The Huntersville association is designed to maintain a better place in Yorktown to live. Tompkins said he stays involved by living in the area and simply working in and around his shop.
He said he works to keep the area around his property and his auto body and mechanical shop clean and in order. Being located on a main street makes it easy to promote business and to intrigue people to stop by to get some gas, he said.
"The only thing that has changed over the years is the technology but we keep up our friendly service," he said.
Proud third-generation owner Tompkins said he treats the cars and the customers just as as he would want his vehicles to be treated. Everyone at the auto body and mechanical shop and gasoline services are proud to be serving Yorktown and surrounding towns.
The services offered at Tompkins Garage are not just auto body and mechanics; they also sell gasoline, are an official NYS Inspection Station, and own a towing service. The percentage of auto body work to mechanical work is half and half.
"We treat our customers like real people at our shop; you're not just a number when you come here," Tompkins said.
Tompkins helps all of the employees with the work and contributes to all the jobs around the shop. All of the employees are committed to their jobs and getting things done the best way possible, he said.
"Most of our customers are repeat but we are always looking for new ones to come and experience our friendly interaction," Tompkins said.
He said that word of mouth is how his business has been gradually getting more and more popular throughout the years. He is always looking for new people to come by and experience his commitment to customers.
Tompkins Garage guarantees that you will be greeted by a friendly face willing to help you with any of your auto body needs.
The Auto Body shop's business hours are 8 a.m.-5 p.m. Monday to Friday, 8 a.m.3 p.m. on Saturdays. The shop is closed on Sundays. They are located at 1440 Croton Lake Rd. Yorktown Heights, NY 10598. If you need a repair and you are interested in stopping by you can reach Jim Tompkins at (914) 962-4161.
By Breanne Post