Business Profile: White Oak Apiary, Southeast
We are part of The Trust Project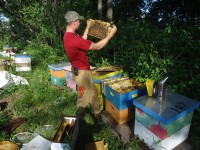 Reporters are supposed to keep themselves out of the stories they write, but when you begin an interview by being handed a large piece of honeycomb dripping with honey whilst several thousand bees are buzzing around, it's too good to be left out.
That's exactly what happened on a visit last week to the White Oak Apiary in the Town of Southeast that is owned and operated by Mike Bruen.
"They sense human fear, kind of like a dog," Bruen said, offering the advice that one might begin to gently back up if it was fear they were feeling next to the hives, despite his bees' particular disposition. "I breed them for gentle traits."
White Oak Apiary is located on a 67-acre hilltop farm that Bruen purchased about a year and a half ago. But his beekeeping started much earlier.
The Bruen family of Southeast dates back to the 1850s and Mike Bruen's father and grandfather kept bees and taught the younger how to do so. After having graduated from Brewster High School as part of the Class of 2003, Bruen joined the U.S. Navy, serving on a ship that took him to ports in Italy and Africa, among others.
When he returned home, a motorcycle accident that, ironically, occurred two hundred feet from the entrance to the farm he now owns, changed his career trajectory and he took a job at Watson Pharmaceuticals. Upon learning that business was shutting down, Bruen decided he would take up bee-keeping and honey-making full-time.
His success has been sweet.
For two years running, judges at the New York State Fair have bestowed the blue ribbon to White Oak Apiary's honey.
Undoubtedly, many Putnam County residents have noticed White Oak's honey stand right off of Interstate 84's Exit 19, where they can pick up a jar of the state's best honey.
Another big part of Bruen's business is being hired by farmers to bring in his bees to pollinate crops. He also sells bee-hive starter kits, called nucs, and holds monthly beginner and advanced classes for community members who want to learn how to keep their own bees that have been very popular.
"Beekeeping is getting bigger and bigger and more people are taking it up as a hobby," Bruen said. "Everyone at the moment is into getting back to the land."
And just like any business, White Oak Apiary must navigate local laws and regulations, some of which help and others that don't.
Bruen said that while some town laws, like the one banning pigs, are too restrictive, he credits the Putnam County Executive with embracing the working farms that remain in the county.
"Mary Ellen Odell has been phenomenal," he said.
Bruen's plans don't end at producing honey and teaching others to do so.
In the next several months, he plans on introducing his own brand of mead, or honey wine, to the market. By fall, he hopes to have a root cellar to store wine and cheeses built on the old foundation of a dairy barn and eventually he wants to add a demonstration area where the community may visit to see how honey makes it from the hive to the jar. Bruen also will soon be moving livestock onto the property, where he already has raised organic, pastured chickens. And this season, he's going to try his hand at traditional wine-making and has planted a test vineyard that will be trellised this summer.
When driving across the bridge that goes over Brewster on I-84, in a month or so, look toward the north at the hilltop and you might just spot it.
For more information on the White Oak Apiary, visit www.whiteoakapiary.com.