Business of the Week: Tomorrow Medicine, Mt. Kisco
We are part of The Trust Project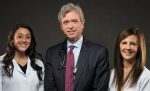 A new integrative health practice in Mount Kisco and White Plains is turning the notion of dieting on its head, helping patients to safely lose weight and feel better without medication.
Established by Timothy Morley, a board certified physician in functional, anti-aging and regenerative medicine, the mission of Tomorrow Medicine is to prevent disease and reverse patients' existing medical problems naturally.
The practice, based on traditional medicine and the latest cutting-edge scientific research, also includes registered nurses Dayna Arena and Donna Saccomanno, both medical weight loss experts; Jessica Dietz, a certified medical assistant and office administrator; and Lydia Rodriguez, phlebotomist and nutritional IV therapy specialist.
Tomorrow Medicine's patients can expect a battery of blood tests that Morley said is the most extensive type of diagnostic testing in the tristate area. In addition to giving Morley and his team the tools to jumpstart weight loss and implement a strategy for disease prevention, the tests can reveal much more than routine blood work.
Morley said the results can often reveal deficiencies in key minerals, such as iodine, which is essential to the production of thyroid hormones, or selenium, which has specific antioxidant properties. The tests can also detect hormonal imbalances, which often impede weight loss.
"Hormones control everything and if they are not in balance, it can be impossible to lose weight," Arena said.
The hormones associated with sex and reproduction, including estrogen, progesterone and testosterone, are the ones most familiar to patients, Morley said. But hundreds of other hormones can lead to heart disease, stroke, cancer, diabetes and Alzheimer's disease, Morley said.
Based on the results, patients may, in some cases, need natural bioidentical hormone replacement care that Morley's office provides, IV therapy treatment or pharmaceutical-grade supplements. However, the primary focus is to get patients to use real food, make lifestyle changes and, perhaps most importantly, educate them to set the foundation for their treatment.
"Healthcare in the U.S. is like this: you are allowed to get sick and once you get sick, you are treated," said Morley, a Ohio University College of Medicine graduate who transitioned to integrative medicine midway through his medical career.
Many of today's illnesses, including diabetes and heart disease, can be linked to poor diet and lifestyle choices, he noted.
"Obesity is an epidemic in this country and the leading cause of many chronic and deadly diseases," Morley said. "If you want to be healthy, you need to address weight."
Under the care of Arena and Saccomanno, patients can receive what Morley calls a cutting-edge weight loss program. Arena said it's more than just a program, but about "creating a lifestyle."
"Most people who come to us feel stuck," said Arena, who works with patients individually to deliver customized nutritional plans that reset the metabolism and balance hormones.
"They were never given the correct information on how to lose weight safely and effectively," she said, "and because they're not nourishing their bodies adequately or simply drinking enough water, they don't succeed. Food is medicine and once you give your body what it needs, the body will heal itself."
Tomorrow Medicine also provides tools for relieving stress, getting a better night's sleep, positive thinking, increasing fluid intake, exercising more frequently, portion control, timing meals correctly and planning ahead.
That helps to remove the barriers to weight loss and provide patients with scientifically-based habits they can adopt. After several weeks of counseling, patients walk out of the practice with newfound knowledge.
"They understand metabolism and what happens in their bodies when they eat the right types of food," Arena said. "Knowledge is power and what makes us different is that we take the time to make sure our patients know why they are doing what we tell them to do."
Tomorrow Medicine's Mount Kisco office is located at 37 Moore St., Suite 3. The White Plains office is located at 1133 Westchester Ave. To schedule a free consultation, call 914-241-7030 or e-mail info@tomorrowmedicine.com.
Colette Connolly is a copywriter and p.r. expert. She owns Connolly Communications, which is based in Bronxville, New York. Colette specializes in providing content-rich, SEO-optimized press releases, articles, newsletters, brochures, and customer success stories.