Business of the Week: Salon Savoir, White Plains
We are part of The Trust Project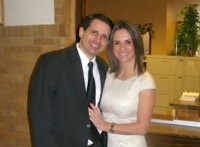 Davide and Claver Calise are the new co-owners of Salon Savoir at 195 E. Post Road in White Plains. The young couple took over the salon in February this year and they are excited about plans to expand into a full-service salon and spa. "The building has lots of room for expansion," explained Davide. "There is room upstairs and downstairs for added services. We plan to take Salon Savoir to a whole new level."
Many of the stylists from the former salon are still part of the staff and the Calises are busy interviewing and hiring new people to add new services.
"The process of bringing in new staff takes time," said Davide. "We want to ensure we hire the best people and there is an upfront training period before they are set to go."
Claver is the beauty specialist of the couple. As a second generation stylist and colorist, Claver's passion in the beauty and hair industry has been present throughout her entire life.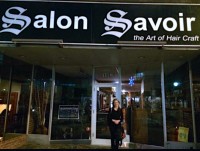 Spending the past few years of her career in a reputable Aveda concept salon as a master stylist and colorist, Claver is excited to now be a part of the Salon Savoir family. With the intention to continue operating one of the most distinguished and reputable salons in Westchester County, Claver embodies Salon Savoir's commitment to carry on the former owner Alfredo's legacy. She has hundreds of classes under her belt, and continually strives to learn more. Claver continues a tradition of providing the finest and most current industry education to the entire staff of Salon Savoir while remaining part of the prestigious Intercoiffure Organization. Salon Savoir was founded on a philosophy of making women look and feel beautiful. By combining state of the art industry technology, a tradition of fashion innovation, and a best class professional guest experience, Claver leads a team that strives to make its clients' experience unlike any other.
Claver is proud to call Salon Savoir her home and her talented team her family.
The salon uses quality Redken hair products and is one of the first salons in the area to introduce Ouidad for all types of curly hair care. "We are very excited about our relationship with Ouidad," Davide said.
For spring hair trends, the experts at Salon Savoir say blondes are very in for 2016. From warm toned 'beachy' blondes to frosted beige and white blondes, the team has been booking up with balyage and ombre highlights. They recommend starting spring off right with a deep conditioning spa treatment to reawaken dehydrated winter locks. Redken's new beach wave collection is both hydrating while not being too heavy to weigh hair down. Now that the weather is warming up it is important to keep hair hydrated and protected from the sun and chlorine water.
Braids and loose curls also are huge for 2016, and the stylists are loving the lob 'Long bob' haircut with some loose curls.
To go with the new hair colors and styles lots of lush lashes, dewy highlighted skin and bright bold lips are in, especially orange-red bright lips with bare skin and bold blue eyes (liners, shadows etc.) with natural lip color. Sunset shadows (pinks, reds, oranges) to complement all eye colors are paired with glossy lips, the darker the skin complexion the stronger the shades can be.
Flirty long lashes, soft blushes and well-groomed brows are trending.
At Salon Savoir's Brow and Lash Bar, which focuses on brow shaping, facial hair removal and lash application, Danielle is using some of the industry's most cutting-edge techniques, especially for brows. She was a Best of Westchester winner in 2015.
As part of the salon's service expansion, Salon Savoir will welcome a new Esthetician/Makeup Artist, Shirley Andrade, in May. Andrade said she too had a passion for the beauty industry from a very young age and began her journey as a freelance Makeup Artist in 2010 after having training at the Lia Schorr Institute in New York City. She became certified in Advanced Makeup, Theatrical and Paramedical Camouflage Makeup. She then became fascinated with the Skin Care Industry because of its close relation to a flawless makeup application, and completed Esthetics training at The Christine Valmy International School of Skin Care where she was also certified in skin renewal treatments such as chemical peels. She later attended The Berkowits school of Electrolysis and was certified in Electrolysis permanent hair removal. In addition she has training in waxing, microdermabrasion, eyelash/eyebrow tinting, microcurrent facials and spray tanning.
Stepping into spring, Andrade recommends going for a lighter moisturizer like a lotion, and exfoliating skin two to three time per week. She recommends using sunscreen daily and reapplying it every two to three hours depending on sun exposure. As a special hint, Andrade suggests opting to reapply with a powder sunscreen to help protect from the sun while absorbing any excess oil left on the skin.
A full services menu and price list of Salon Savoir's offerings can be found at salonsavoir.com. You can follow the salon on Facebook to find out about special promotions and new services and call 914-761-9292 for an appointment. First time guests will receive 50 percent off on shampoo, cut and style and 20 percent off on color with master stylist and master colorist Claver Calise.