Business of the Week: Peekskill Wine & Liquor, Cortlandt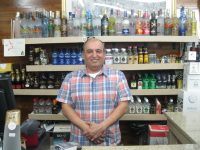 Lincoln Park, NJ resident Paul Dubal previously owned businesses "that didn't pan out" and later worked for the U.S. Postal Service as a supervisor but did not lose his desire to be his own boss again.
"I did my research" and decided to own a liquor store, Dubal said last week. If the store is small enough, "you're not dependent on employees."
"It worked out," he said.
Dubal said he chose his location near the Peekskill border 10 years ago because he found it online and he did not have to pay a premium price for rent because it was rundown. The building is about 70 years old and it was the site of other stores previously, he noted. The internal renovations took about a month to complete, he said.
"I have a steady clientele. It's a neighborhood wine store. I know all my customers," Dubal said. "They all know me."
The wines he offers are "from all over the world from Italy, New Zealand Australia, California, New York," Dubal said. "I do taste everything before I buy it."
The store offers a wide range of liquor including brandy, whiskey, tequilas and rums. "I have everything because every family has different drinking criteria or entertainment criteria. They have parties or they have relatives coming over," Dubal said. "You've got to have a mix of everything."
Dubal said he drinks red wines, noting Pinot Noir is his favorite. "It's a nice sipping wine. It has a lighter body," he said. In the summer he also drinks gin and tonic and he also enjoys scotches.
For customers who do not know much about wine, Dubal said he asks them if they want to pair wine with food or just of a glass of wine with friends. "You got to get to know what they're looking for," he said.
Dubal moved to the United States from his native India 30 years ago when he was 25. "I didn't like the situation. I went to all the embassies around the world. They all gave me visas," Dubal said. He toured Europe and the United States while still a citizen of India. A major reason he moved to America was because in is native land the primary language is English and Americans speak the same language, Dubal said. "(I) packed my bags and I was gone," he said.
Dubal said his relationship with customers and his reputation for giving his patrons ideas on how to purchase the wines they want at a lower price than national brands are keys to the success of his store.
"God has graced me with very good memory," he said. "Once they (customers) use a credit card, I know their names. The next time they walk in I greet them with their names and that's how a conversation starts and we start talking about wine."
Peekskill Wine & Liquor is located at 2008 Crompond Rd. in Cortlandt. For more information call 914-930-8105.