Business of the Week: Greek American Grill, Baldwin Place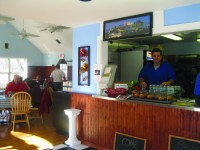 When something is in your blood, there is no denying it. So it goes for Thomas, Michael and Christina Spyropoulos, who collectively joined efforts to open the Greek American Grill in Baldwin Place.
Located at 63 Route 6 just west of Somers Commons, the restaurant brings some old-school experience to a whole new set of clientele.
The Spyropoulos siblings grew up in the restaurant business. Their parents Elias [who is known to everyone as Louie] and Ruth owned Executive Diner in Hawthorne until three and a half years ago.
"We grew up in the around the diner and then we each went on to do our own things," said Thomas Spyropoulos. "My brother became a lawyer, my sister became a shipping manager and I was doing tree service, but we all felt drawn back to the restaurant scene."
Louie and Ruth sold the business and wanted to retire. "My parents are workers," Thomas said. "They love to work. They were kind of bored being home.   By us opening up a place they can still do what they love. They can work part time."
In fact Louie is frequently in the kitchen making his favorite dishes like Lemon Greek soup. Ruth can often be found being the warm hostess welcoming the guests inside.
Although the family comes from the diner background, The Greek American Grill does not have a diner feel. "The diner was a little too big," said Thomas. "We want a small place that is family friendly. We want a chance to get to know our customers."
Where as many diners are open 24-hours a day. The Greek American Grill is open from 7 a.m. to 9 p.m. every day.
"With a diner you have to work a really long day and then you do not have time for a life," Thomas said.
There are some tips that the family picked up from the diner trade that they use in the new restaurant.
"We serve the full menu all day long," said Thomas. "You can have breakfast at night or dinner in the morning."
The eatery also offers an array of Greek dishes, such as spanakopita and moussaka. The Spyropoulos' also use a vertical broiler, which is also known as a gyro machine, to cook the lamb and beef used to make the gyros and other dishes.
"The rotisserie used in the gyro machine just makes the meat taste better," Thomas said.
Since it opened its doors a couple of weeks ago, the community have been really receptive to the new restaurant.
"I am so happy with how busy we have been," Thomas said. "I did not think we were going to be as busy as we have been. We have a great location. We are right on Route 6 so we are highly visible."
The Greek American Grill offers free WiFi to those patrons who eat in. But for those who want to eat at home, the Spyropoulos offer free delivery for orders over $20.
For more information, or to place an order, call 914-519-6161.