Business of the Week: Arco Cleaning Maintenance Company, Mt. Kisco
We are part of The Trust Project
Since 1946, Arco Cleaning Maintenance Company has been a mainstay in Mount Kisco, first established as a floor waxing service by the late Guerino George Arco and his wife, Jean, and later incorporating other services such as the cleaning of carpets, windows and upholstery.
For the past 40 years, Arco's son, George, has been at the helm, turning the business into a thriving service that not only caters to the residential customer but to a growing number of businesses in the region.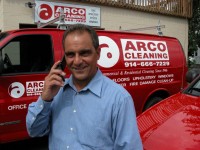 When Arco's father founded the company, he was a newly returned World War II veteran and an employee at the General Motors plant in Tarrytown. By 1960, the business was doing so well that the elder Arco decided to quit his full-time job and put all of his energy into the growing business.
Back then carpet was not a popular choice as a floor covering. But by the time Arco and his wife, Kim, bought the house where they currently operate the business, carpet cleaning was in popular demand, forcing Arco to add a second garage specifically for that part of his business. At the same time, the demand for commercial janitorial services was growing, and Arco took advantage of the trend.
"At the time when I was studying in college, I didn't think that I was going to take over the family business, but it has turned out to be a good, honest living," said Arco, who has a bachelor's degree in accounting and business management from Pace University. "It's hard work, but it's rewarding at the same time."
These days commercial cleaning is Arco's specialty. With a full-time staff of more than 100 professionals who work around the clock and a fleet of 14 vans, Arco's crews have become a familiar sight in many of Mount Kisco's businesses. Workers take care of the regular cleaning services that are required of most offices, as well as building maintenance, debris removal and providing emergency services, including repairs to flood-damaged floors.
Residential jobs include regular maid services as well as a top-to-bottom cleaning jobs that are often needed when clients move into a new house or leave an old one. He also takes care of carpet cleaning and upholstery and furniture cleaning, including the care of couches, chairs and ottomans. Arco's company serves the northern Westchester area, in addition to White Plains, Putnam County and parts of Connecticut.
Arco's work as a commercial real estate broker for the Princeton Realty Group in Mount Kisco has given him the opportunity to make additional inroads into the market. He has been able to secure commercial cleaning contracts as a result of his work with the realty group, but it has also been his ability to weather previous recessions and his aptitude for "getting back to basics" that has helped him grow his company. That includes being responsive to customers' needs, offering competitive prices and building trust and relationships.
"I pride myself on retaining second- and third-generation customers," said Arco, an active Mount Kisco Chamber of Commerce member and a former vice president. He is currently responsible for organizing the town's annual sidewalk sale, which is sponsored by the chamber and actively networks with several other area chambers.
"Much of my success is due to the way I've handled problems over the years as well as being able to deal with initial complaints," he said.
Arco is certain to follow up with all of his customers and make sure any problems are quickly resolved.
"I think many of my customers actually respect it and appreciate it," he said.
To find out more about Arco Cleaning Maintenance Company's services, call 914-666-7229 or visit www.arcocleaning.com.
Colette Connolly is a copywriter and p.r. expert. She owns Connolly Communications, which is based in Bronxville, New York. Colette specializes in providing content-rich, SEO-optimized press releases, articles, newsletters, brochures, and customer success stories.