Business of the Week Anytime Fitness, Pleasantville
We are part of The Trust Project
A new fitness club scheduled to open in Pleasantville this weekend is promising a hassle-free workout for on-the-go, health conscious patrons who want to exercise on their own terms.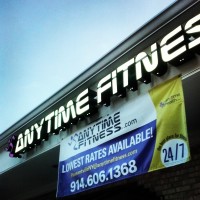 Owned by Yorktown native Anthony DiFroscia, the franchise operates around the clock,  seven days a week, 365 days a year, setting itself apart from the big-box gyms and boutique fitness clubs.
The reason, said DiFroscia, is because Anytime Fitness offers convenience–state-of-the-art facilities and the opportunity for members to use any of the company's more than 2,000 gyms across the country and around the world, all for the same low price.
"We're not trying to be like the other gyms," DiFroscia said. "We just want to give people the opportunity to get fit and then get on with their lives."
DiFroscia, who holds a bachelor's degree in visual arts and a minor in art history from Manhattanville College, has served as manager of the Yorktown Parks and Recreation Department's arts-related camp programs. He also has a wealth of business development and marketing experience in the franchise/small business arena, and has been an integral part of his family's restaurant in Mohegan Lake.
But it was his interest in keeping fit, a passion that developed when DiFroscia was a teenager, that piqued his interest in investing in an Anytime Fitness franchise. He co-owns the franchise with his grandfather, Antonio DiFroscia, who serves as director of operations.
DiFroscia's initial reaction to the business model was its convenience and affordability, comparing it to a gym he used to go to where the equipment was clean and the facility wasn't as crowded as other clubs.
Access to the 2,500-square-foot facility is easy and secure, DiFroscia explained. The Pleasantville location, like other Anytime Fitness clubs, uses an elaborate security system that allows members to gain entry to the club only if they use their personal keycards.
The card, which is unique to each member, tracks gym activity and when swiped will be linked to each member's personal data that can be stored on the Anytime Fitness website.
The website also offers information on meal planning, tracking caloric intake, reviewing personal health scores through an assessment system and more. The information could assist members who can get reimbursed through their employers' insurance providers, DiFroscia added.
Becoming a member is easy, said DiFroscia, who will be working with his brother, Gianni, a certified personal trainer. There are no introductory membership fees. Once registered, members are given a one-hour consultation, which includes a review of one's health history, an explanation of basic exercise principles and suggestions on how to maximize the gym's equipment.
There's a wide variety of exercise machines at Anytime Fitness, including cardio equipment, stationery bicycles, elliptical cross trainers, treadmills and a special all-motion trainer that allows users to change from walking to running and climbing.
Each piece of cardio equipment, which is manufactured by industry leader Precor, comes with touch screens and a TV. In the near future, DiFroscia said members will have the ability to access the Internet, including their Facebook pages and the Anytime Fitness website.
Strength equipment and free weights are also available at the gym, in addition to personal training sessions. The handicapped accessible facility includes unisex locker rooms with showers.
"We want to get to know our customers, and that means knowing where they work, where they go to school, basically knowing everyone's story," said DiFroscia, referring to the personal service that he and his staff will provide customers.
"We will strive to be the most convenient, affordable and most enjoyable fitness center for Pleasantville residents and beyond," he said.
Joining Anytime Fitness prior to its grand opening event, which is set to take place after the scheduled June 9 soft opening, will guarantee that members are grandfathered into the lowest membership rates, DiFroscia said. Others who visit on grand opening day will receive a seven-day pass that can be used during staff hours only.
Anytime Fitness is located at 60-62 Washington Ave. For more information, call 914-606-1368.