BURNED: Probe Ongoing for Missing Millions in Mahopac VFD
We are part of The Trust Project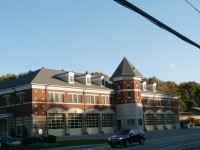 As much as $5 million could be missing from the Mahopac Volunteer Fire Department's coffers, and what started out as only speculation on the street has turned into a full-blown investigation that has residents on edge.
After weeks of swirling rumors, the Mahopac Volunteer Fire Department acknowledged on its website and posted to its Facebook page that that Board of Fire Commissioners for the department are aware of an investigation currently being conducted by multiple agencies, including the New York State Police and Putnam County District Attorney's office "into what appears to have been embezzlement or misappropriation of funds."
The release stated this past summer, the Board of Commissioners noted "serious discrepancies in financial reporting." They were discovered between the treasurer's monthly financial reports and annual audit of department finances.
"As the investigation is ongoing, it would be premature to state specifics, such as the person or persons involved, the amount of funds involved or the prospects of restitution or recovery," the department stated. "
The Board of Fire Commissioners is working with law enforcement officials and the fire departments outside legal and insurance consultants, to see to it that all appropriate action is taken to safeguard the assets of the fire department."
The department's now-former treasurer, Michael Klein, resigned on Sep. 25 as the probe dragged on, according to a report in The Journal News. He had been the treasurer since 2003 and owns Buckshollow Emergency Equipment in Mahopac. His company even sold equipment to the Mahopac Fire Department, according to the report, despite he also being the department's treasurer.
"This is by far the largest issue involving finances that I've been involved with," Carmel Supervisor Ken Schmitt said.
Schmitt said he was a "very proud" life member of the Mahopac Fire Department, joining when he was 16-years-old. He stressed residents to not throw an avalanche of criticism on the entire department and its services because of "one bad apple."
"We're talking about one individual right now decide to do what he did, please do not lump all the members of the fire department," Schmitt said. "Don't paint them with one broad paint brush. That is wrong to do that."
Schmitt went on to say, "The one bad apple that they had, he will pay. There will be consequences for him…it's disgraceful what this individual did and he will pay for his crimes"