Burke Opens Regenerative Medicine Center
We are part of The Trust Project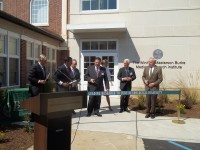 There is a center in White Plains that offers hope to all who enter.
On Friday, Burke Rehabilitation Center cut the ribbon on its new $7 million Regenerative Medicine Laboratory that will allow for further neurological research.
Doctors and scientists predict that this new research will allow for more advanced treatment in the recovery of stroke, spinal cord injures and traumatic brain injuries. Burke now has more than 40,000 square feet of medical research laboratories.
"The goal of the Burke Medical Research Institute is to provide the necessary tools to reduce neurological disability," Dr. Rajiv Ratan, the Executive Director of the Burke Medical Research Institute, said. "The opening of the Regenerative Medicine Laboratories will bring us one step closer to achieving our main objective of reducing or eliminating disability caused by disease and illness."
Dr. Ratan talked about one patient he had who went all over the world looking to cure his paralysis with no success, until he came to Burke and was able to flex his wrists.
"It was an amazing sight," Dr. Ratan said. "The brain and spinal cord can be repaired. This is our next breakthrough. We must ride up with resolve to redouble our efforts to fight paralysis, vision loss, pain and dementia."
Dr. Ratan said this gives Burke the opportunity to continue to offer patients the best rehabilitation care and hope for recovery.
"If you are blinded, you may be able to see," Dr. Ratan said. "If you are in a wheelchair, you may be able to walk again. The quality of life of patients in rehab continues to be fantastic. Being paralyzed is not a life sentence anymore."
Assemblyman Bob Castelli (R-Golden's Bridge), who attended thee ribbon-cutting ceremony for the new lab, said that Burke Rehabilitation Center is a tremendous boost to the community. Castelli has been at Burke twice, recovering from injuries when he was a state trooper and from skydiving.
"I cannot say enough about this institution," Castelli said. "I would encourage anyone to support them financially. They do incredible work and it keeps getting better. I have watched them provide hope to other people. This is the place where you will walk out of here better."
County Executive Rob Astorino, also at the ceremony, said the county is proud to support Burke Rehabilitation Center.
"Westchester prides itself on being New York's Intellectual Capital," Astorino said. "The opening of its Regenerative Medicine Laboratories in White Plains demonstrates Burke's commitment to cutting edge research."