BRS Fourth-Grader Writes of Special Bond in Essay Contest
We are part of The Trust Project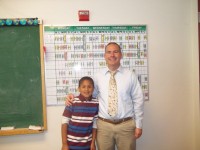 Bedford Road School fourth-grader Justin Bell and second-grade teacher Marc Vavolizza have a teacher-student bond that most children and instructors can only dream about.
Bell was the winner of the My Favorite Teacher contest held by the Greenburgh Barnes & Noble, writing an essay about why Vavolizza was his favorite teacher. The pair was honored at the store last Saturday, with Vavolizza winning a set of books for his classroom.
Bell's bond with his former teacher dates back to first grade, when he wrote Vavolizza a letter asking him if he could be his second-grade teacher because he heard he was fun and gave ice cream parties. Vavolizza said that no student had ever done that before.
Once in his class, student and teacher connected by enjoying their mutual love of math. Vavolizza called Bell his "mini-me" because they had so much in common. Bell praised Vavolizza for always making students feel special.
"When a kid was feeling sad or depressed, he would go over to them and cheer them up by talking to them," wrote Bell. "He really took a lot of time to help us learn."
Vavolizza, who has been teaching at Bedford Road School for 17 years, called Bell's essay the nicest thing he has read from a student.
"It was extremely special," Vavolizza said. "It's what I hoped to accomplish when I got into teaching."
During Bell's second-grade year, Vavolizza tried to instill the student with a love of reading to go along with his math proficiency. It worked and Bell now reads 45 minutes a day.
"You have to figure out what makes these kids tick and use it as motivation," Vavolizza said. "You have to tap into their interests. It was more of a challenge getting him to love reading."
Vavolizza, who has a drawer full of letters from former students, said that other teachers are happy for him.
"It's so symbolic," Vavolizza said. "It represents all the teachers that get beautiful letters."
Bedford Road School Principal Peggy Galotti praised Bell for his essay.
"In order for kids to learn, they have to be happy and safe. You were happy to learn. I am so proud of you. You were an author, it was your idea and your seed. It's a beautiful thing," Galotti told Bell.
Despite it being nearly two years after finishing second grade, Vavolizza remains a positive influence for Bell. Bell still comes into his classroom and designs math problems for Vavolizza's current students and they occasionally see each other at St. John's Episcopal Church in Pleasantville. They have both participated on midnight runs to the city to help the homeless and Bell participated in pickup soccer games that Vavolizza held last winter.
"He always keeps his promise," Bell wrote in his essay. "If he says he is going to be there you can be sure he will be there. These are the reasons why Mr. V is my favorite teacher and he always will be."