Brooklyn Nets Kilpatrick Comes Home to Open Juice Lab, NY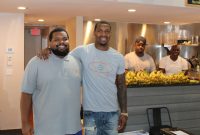 Sean Kilpatrick, the White Plains High School basketball superstar who graduated in 2008, now plays for the Brooklyn Nets. Kilpatrick joined the Nets, on Feb. 28, 2016, after signing the first of his two 10-day contracts, before being offered a multi-year deal in March 2016.
Kilpatrick was the league leading-scorer with 26.4 points per game for the Delaware 87ers of the formerly known NBA Developmental League (now Gatorade League) before coming to the Nets. He also had stints in the D League with the Santa Cruz Warriors and in the NBA with the Denver Nuggets and Minnesota Timberwolves.
Kilpatrick wears a wristband that reads "Keep Dreams Alive" with his Nets number 6 inscribed on the band. The slogan he wears daily on his wrist certainly has had a positive effect on Kilpatrick.
Despite being named an Associated Press First Team All-American his senior year at University of Cincinnati, Kilpatrick went undrafted in the 2014 NBA Draft.
Nonetheless, he "kept his dream alive" and toiled through the NBA G League and NBA Summer Leagues until his opportunity surfaced.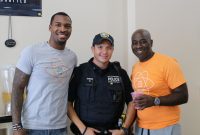 "It felt great! The first two stints I had in the NBA with Minnesota and Denver, it was more so me getting my feet wet," commented Kilpatrick. "As soon as Brooklyn gave me that call and opportunity, I said to myself, this is something I cannot pass up on, I am comfortable now and I am home," said Kilpatrick.
In July 2016, Kilpatrick also signed a deal with the sneaker company AND1. However, his latest venture is his own and it brings him back to where it all started – in White Plains.
On Saturday, Aug. 12, Kilpatrick opened The Juice Lab, NY, at 148A Mamaroneck Avenue, in White Plains. The Juice Lab, NY serves a variety of healthy fresh made juices, smoothies and Fresh Lab Drinks, with such flavors as Lemonade, Peach, Pineapple and Tea.
"I am a juicer myself. Mr. Sean Marks (Sean Marks is the General Manager of the Brooklyn Nets) challenged me to transform my body last year. After that, I started thinking what can I do for myself and to help the community," stated Kilpatrick. "After I had time to figure it out, I was in the car one day and called my mother and father and relayed that I want to open a juice bar," revealed the former Tigers superstar.
The Juice Lab, NY has 11 concoctions of freshly made juices including the "Westchester Rise" which is a mixture of carrots, beets and oranges, "Cactus" a blend of lemon, orange, celery and beet, "Island Taste" which includes mango, pineapple and banana and many more varieties.
Kilpatrick's Juice Lab, NY also has six varieties of Smoothies including "Orange Cickle" with orange, yogurt, lemon and lime, "USA" combining blueberry, pineapple and strawberry, "Pop" with peach, orange and pineapple and my favorite "Monkey Juice" mixing banana, peanut butter, honey and nuts, among other smoothie flavors.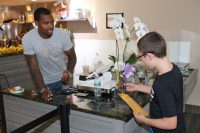 While Kilpatrick is scoring points on the basketball court in Brooklyn, The Juice Bar, NY will be operated by people very familiar to him during his lifetime. The General Manager is his father, Sean Kilpatrick, Sr. and the Co-Managers are Damien White, who has known Sean since he was a baby, Tanya Alvarez of White Plains and his loyal friend Sean Brooks, with his mother Regina Williams, who is her son's consultant on all aspects of his life.
Brooks graduated with Kilpatrick and was on the Tigers varsity basketball teams with him. Brooks has been a loyal friend and confidant of Kilpatrick's for many years. "Sean (Brooks) has been my best friend since I was 12 years old and now I am 27 years old and that speaks volumes within our relationship. It makes things a lot easier to have someone in your corner that knows what you like and what you don't like," acknowledged Kilpatrick.
During this year's 2017-18 White Plains High School basketball season, Kilpatrick will receive a special tribute from his alma mater, when his Tigers jersey will be retired at White Plains High School. The date and time will be announced once the scheduling details are confirmed.
The Juice Lab, NY can be contacted by telephoning: 914-946-7772, or log onto: www.wehavethejuice.com or by Twitter and Facebook at TheJuiceLabNY.