News Based on facts, either observed and verified directly by the reporter, or reported and verified from knowledgeable sources.
Briarcliff Buzzing; Lakeland Nips Yorktown in OT; PV on Top of Class B
We are part of The Trust Project
By Tony Pinciaro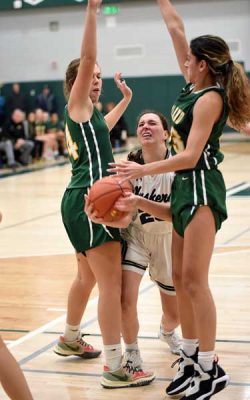 BRIARCLIFF opponents face a major dilemma every time they take the floor. The Bears boast two of the most dynamic and complete players in Section 1 in seniors Caroline Barolato and Cat Carrafiello. Carrafiello is averaging 20 points per game and Barbolato, the point guard, averages 15 points a game.
Veteran Briarcliff Coach Denise Hamlin has known the girls since they were elementary school students and has had the pleasure of coaching them since they debuted on junior varsity as seventh-graders.
"They were super athletic, at that age, and their basketball IQ was huge," said Hamlin of the duo. "They played a lot of AAU and were the two top kids in the seventh grade. They are also both younger siblings of girls that played for me."
After playing two years on JV, Barbolato and Carrafiello were promoted to varsity as freshmen where they played for then Briarcliff coach Don Hamlin for two years. Last year, when Denise Hamlin became the varsity coach, she was reunited with Barbolato and Carrafiello.
Briarcliff reached the Section 1 Class B quarterfinal round last year. This year, Barbolato and Carrafiello have driven Briarcliff to a 9-4 start despite seeing every type of junk defense to contain them.
Barbolato runs the show for Hamlin from the point while Carrafiello can and has played the point to center.
"Caroline is determined and driven," Hamlin said. "She thrives on putting the team on her back. Caroline sees the court well, distributes the ball well and trusts her teammates to make the right decision after she passes them the ball. This year Caroline, who is a super quiet kid, has stepped up as a vocal leader. When we play a junk defense, Caroline is the one I put on the opposing player to slow her down."
Barbolato will attend Manhattanville next year and play basketball. Carrafiello will attend Middlebury next year and play basketball.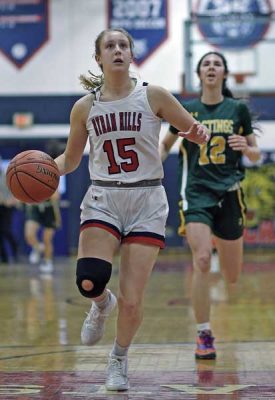 "Cat is really called on to do a lot," Hamlin said. "She's our engine and she makes us go. Cat is the one who wants to take the shot. In an earlier game this season, Cat scored 29 points, but she could have had 49."
Even though Barbolato and Carrafiello are outstanding all-around players, they are even greater teammates. Hamlin noted that the senior captains are more pleased with their teammates' accomplishments. One example was Briarcliff's recent 66-62 win over Blind Brook.
"Two of the biggest points of the game was one of their teammates making two foul shots," Hamlin said. "When she did this, Caroline and Cat couldn't have been more happy. They love their teammates and are proud to be part of this team. That's what makes them special."
Hamlin says Barbolato and Carrafiello are a coach's dream.
"They're such nice kids who love to be around their teammates that I almost want to tell them to walk on the court with a chip on their shoulder," said Hamlin, with a laugh. "If they did, they'd be even more dangerous."
That's not something Briarcliff opponents would want as they hold the No.6 seed in Class B with a 9-5 record.
Briarcliff has a busy week upcoming with games against rival Pleasantville (Wednesday), Westlake (Friday) and Scarsdale (Saturday in the Ossining Tournament).
PUTNAM VALLEY continues to reinforce itself as the team to beat in Class B as the Tigers handled Somers (65-34). The state-ranked (No.7) Tigers are 15-1 and on their way to the top seed in the Section 1 Class B Girls' Basketball Championship.
Senior and captain Eva DeChent scored 30 points. She is averaging 32 points per game along with 10 rebounds, six assists and seven steals. DeChent is 78 points away from 2,000 during what is the most storied career in PV history. Jona Kabashi added 16 points and 12 rebounds and Nai Torres had 13 points.
WHITE PLAINS has turned up the defensive intensity in its eight-game winning streak as fellow Class AA power North Rockland became No. 8, 64-42.
The state-ranked (No.28) Class AA Tigers, now 12-3 this season, have held 11 opponents under 45 points.
"Our defense changed after our loss to R.C. Ketcham," White Plains' Coach Benj Carter said. '"That particular game we had minimal communication, too many defensive breakdowns, not filling in gaps properly, slow help and recover rotation and transition defense that cost us in each loss. Once we studied film, we focused on having a defensive mindset for 32 minutes, which helped us out when our shots on offense were off.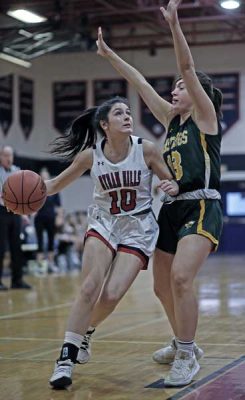 "We implemented an added goal to get better each game defensively. With that new focus we took pride in not letting teams score easy on us ever again. We now communicate effectively and really take pride in the best defensive team in Section 1."
Aliya McIver, who recently surpassed 1,000 varsity points, had 15 points, seven rebounds, nine assists and seven steals. Ineivi Plata had a game-high 24 points along with five rebounds and five steals.
FOX LANE won its only game of the week in dramatic fashion, thanks to freshman Morgan Clinton.
Clinton drained a 3-pointer with 4/10ths of a second remaining in overtime, sending the Foxes to a 44-40 victory over Mount Vernon.
Following three stops by Fox Lane, the Foxes (5-8) had the ball at half court with 3.9 seconds remaining. Fox Lane Coach Kris Matts called a set, sideline play and Clinton delivered.
"It was a bit of a see-saw battle with us landing the first punch," Matts said. "We got lots of open looks against their zone and managed to turn them over with our press, with us leading by 10 in the first half.
"Turnovers by us led to some easy buckets for them and they cut into the lead. The second half they turned the tables on us, pressuring us full court and playing man-to-man. They took the lead and shut us down in the fourth quarter, but some key stops and perfect free-throw shooting from Tess DiCarlo and freshman Riley New enabled us to tie it in regulation."
Clinton led Fox Lane with 11 points and Riley New added eight points.
BYRAM HILLS won its only game of the week – 58-47 over Hastings.
Grace Corelli led a balanced scoring effort for the Bobcats (6-10) with 14 points. She also had five assists and five steals. Kelsey Vaquero added a season-high 13 points and Riley Morris scored 10 points.
BREWSTER began its week with an impressive 54-47 victory over Horace Greeley. However, the momentum Brewster had coming off that win was seized by North Salem as it shocked the Bears, 52-46.
Madison Dakin scored a game-high 17 points against Greeley. Jordan Niles added 12 points and Olivia Francis had nine points and 12 rebounds.
"Olivia was tremendous all night on the boards and Madison and Jordan played a great second half with some key baskets," said Brewster Coach Mike Castaldo of the Greeley game. "Against North Salem, we got crushed on the boards and lost the 50/50 battle on loose balls and hustle plays. North Salem outworked us and played smarter. They deserved the win."
Dakin scored a team-high 20 points against North Salem as Brewster dropped to 9-6 overall.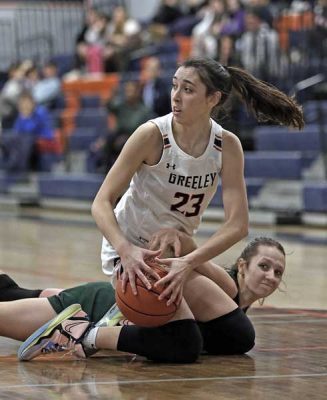 HORACE GREELEY went 1-1 with a 54-47 loss to Brewster to open the week before rebounding with a 46-41 victory over Carmel.
The Quakers took control of the game with a huge first quarter in a 46-41 win over Carmel. Greeley led 23-5 after one.
"In the Brewster game I think shots weren't falling for us and we just did not come out as our best selves and keep that energy for the full game," senior and captain Emma Rose said.
"The Carmel game was good to boost morale, especially in the first quarter. I think we played together and it was a great win to have before this upcoming week where we have Ossining and White Plains."
Carolina Negrin led the way against Brewster with 12 points along with five rebounds. Ava Gusba added nine points and five rebounds, Allie Mosca scored eight points and Bella Schulman and Emma Rose had seven points apiece.
Schulman scored 10 points and had six assists and four rebounds against Carmel. Rose added nine points and Georgia Sack netted seven points.
The Quakers are 9-6 overall and 4-1 in league play.
LAKELAND had a rough open to its week with a loss to district-rival Panas (51-23).
The Hornets came back and posted their most impactful win of the season, a 57-51 overtime win over Yorktown.
"We've been in a bit of a rut," said Lakeland Coach Miranda Mangan prior to the Yorktown game. "Our focus has been supporting one another and playing together as a team. That's exactly what the girls did against Yorktown. It was an exciting game that went back and forth. We are really proud of how the girls played."
Nichole Ljuljic scored a game-high 29 points, including 5 of 6 from the free-throw line in overtime. Ava Lugo added 12 points and Sarah Devane had 10 points.
PANAS earned bragging rights in the Lakeland School District matchup as it beat rival Lakeland (51-23). However, the state-ranked (No.26) Panthers were dealt their third loss of the season – 49-44 to a 14-1 Pelham team.
"In the Lakeland game we played our most complete game, both on the defensive end and executing our offense," Panas Coach Matt Evangelista said. "In the Pelham game we were outrebounded and missed some defensive rotations. We also struggled against Pelham's size."
Sophia Tavarez had 15 points, six rebounds and four steals against Lakeland. Cadence Nicholas chipped in 10 points and Sarah Chiuli added nine points.
Tavarez led the Panthers with 15 points and Nicholas finished with nine points against Pelham.
Panas was scheduled to play Harrison, but inclement weather forced it to be canceled.
YORKTOWN dropped a 57-51 overtime verdict to Route 132-rival Lakeland.
"Both teams brought great energy," Yorktown Assistant Coach Annie Darling said. "There are some NY Extreme girls who play for Kristi (Dini) year-round and our girls have been playing some really great hoops so we knew it would be a good matchup. That's the most points we've given up all year so we were disappointed with our defense, which has been our bread and butter. Lakeland played an awesome game. We had endless chances to win – but for missed layups and free throws – and we were up two with 20 seconds remaining. They hit free throws and played team ball in overtime. It was a great Class A matchup."
Olivia Lucas had a team-high 14 points, Kaitlyn Judge added 11 points and Ava Costello scored nine points for the 9-4 Cornhuskers.
CARMEL found itself facing an early deficit that it was unable to overcome in a 46-41 loss to Horace Greeley.
"We fought feverishly to get back into the game trailing 23-5 after the first quarter," Carmel Coach John Sullivan said. "We trailed by 15 at halftime and nine after three. We just couldn't complete the turnaround."
Senior Amelia Rosario scored a career-high 17 points and Maeve McGlynn contributed 11 points.
WESTLAKE (12-3) did not play last week but will take to the road against Irvington (Tuesday), Rye Neck (Wednesday) and Briarcliff (Friday).
State-ranked (No.22) MAHOPAC (11-3) also had the week off and will resume with a trio of games this week beginning with 2022 Section 1 Class AA champion R.C. Ketchum (Tuesday), Arlington (Friday) and state-ranked (No.19) Pelham (Saturday), which is 14-1.
Ray Gallagher contributed to this story.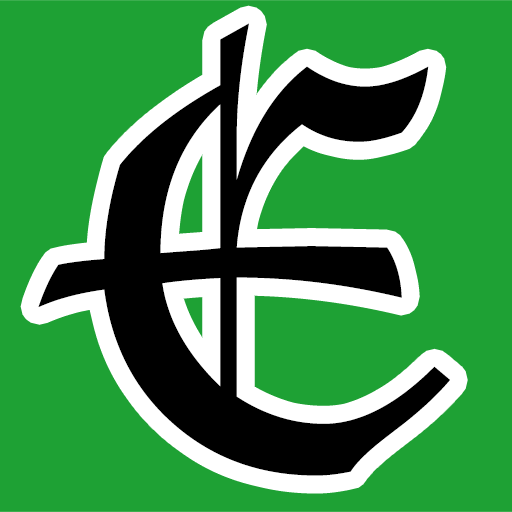 Examiner Media – Keeping you informed with professionally-reported local news, features, and sports coverage.