Brewster Shipping Center, Brewster
We are part of The Trust Project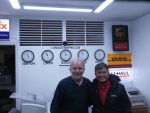 With the holiday season in full swing, packages from around the nation—and world will be sent. Brewster Shipping Center, under new ownership, hopes they can provide patrons the peace of mind to make gift-giving as seamless as possible this year.
Owner John Dayrit, who is working with FedEx, UPS, DHL, and the Post Office, is ready for a busy month by accepting, packing and shipping items all over the place. The shipping center also offers mailbox and U-haul Truck rentals, makes keys, takes passport pictures and can be a notary.
Dayrit took over Brewster Shipping, a Brewster Chamber of Commerce member, back in April from former owner and longtime Brewster resident Richard Ruchala. While the business is under new ownership, Dayrit said he has kept the services previously provided and hopes to expand even more in the coming months.
He renovated the interior of the shipping center to give it a brighter look. New walls and floors were put in to give the center a more welcoming vibe. Another new twist to the shop is multiple clocks representing different time zones in the world, including Dayrit's hometown in the Philippines.
Dayrit said he was looking to own a business similar to the shipping center when he met Ruchala through his other job at Comcast.
"He said, 'why don't you take it,'" Dayrit, a Danbury resident, said.
Dayrit has lived in the United States since 2000 after he emigrated from the Philippines where he used to work in electronics communication. For work, he traveled all over the Pacific, including Indonesia, Malaysia, Singapore, China, and South Korea.
He came over to America for his family, which is comprised of his wife and three children.
"We come over here and of course we have to start over," he said.
After traveling all over the place, Dayrit enjoys that he now gets to go to the same place everyday for work along Main Street in Brewster.
But this isn't Dayrit's first time owning a business. When he first arrived in America, he set up a computer consulting business at a time when computers were incredibly pricey. Now, he's turned to the shipping sector.
"You have to have dedication and put time into this and you know how to think ahead of time instead of just what's going on today," he said. "We have to think a step farther."
Brewster Shipping Center is located on 12 N Main Street in the Village of Brewster and its phone number is 845-279-6633.