Brewster Republicans Endorse Wagner for State Senate
We are part of The Trust Project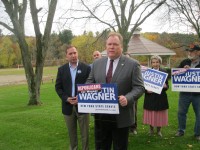 Several local Republicans came to Veterans Park on Oct. 25 to throw their support behind Democrat Justin Wagner in his race against incumbent Republican state Sen. Greg Ball.
"What I've been trying to focus on is what unites us as opposed to what divides us," Wagner said. "That's why I'm happy today to be here to accept the endorsement of the mayor and other Republican leaders."
Wagner said he called the press conference to announce the creation of Republicans for Wagner. "This election is not R versus D. It's about building a strong community," Wagner said. "The same thing I hear from different groups of people, whether they're conservative Republicans or liberal Democrats, they're really tired of the cynicism in politics. They're tired of politicians that say one thing and do the other, up in Albany or in Washington."
Wagner said he was a reformer and would not fulfill "a party's interest." Mandate relief is an example of an issue both parties could work together to deal with, he said.
Despite a large Republican voter registration edge in Putnam, Wagner said he would do well in the county. "I'm a common sense, solutions guy," he said.
"I am proud to support Justin for the Senate seat," Brewster Mayor Jim Schoenig said. "I think he said it best when he said it's not Republican or Democrat, what it is is working with the best candidate."
"I think he's willing to work with the villages and the towns as he says he is. We have not had any cooperation from Greg and it's just time for a change," Schoenig said.
For their part, the Ball campaign brushed aside the GOP endorsements for Wagner.
"Senator Ball remains focused on job creation and cutting taxes and building upon the great work begun, in bipartisan cooperation with Governor Cuomo," according to the statement from the Ball campaign. "Once again, Wagner is playing catch up and getting desperate. For months we have built a solid coalition of Democrats and independents for Ball, including the critical endorsement of popular Democrat Mayor (Patricia) Reilly in Mount Kisco. As for Brewster, Senator Ball has delivered $250,000 for the Brewster Theater, over $150,000 for Brewster schools and tirelessly worked on behalf of Brewster's seniors, veterans and taxpayers. While Senator Ball has bent over backwards to work with all local elected officials, the current mayor is a political relic from a time when the Leibell machine was laundering money through the Village of Brewster, and if Wagner was smart, he'd be more careful before accepting such questionable political support from the Putnam political machine, of a time thankfully for the taxpayers, now gone."