Brewster Marching Band Performs on 'Today Show'
We are part of The Trust Project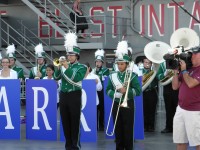 The Brewster Marching Band helped deliver an extraordinary marriage proposal and it was call captured on film. Marcial Alzugaray met Brynn Joyce a tNava lCollege and want to have a Navy component incorporated into the proposal as well as Joyce's love of music and dancing.
Alzugaray want to have the grandest proposal ever seen. He teamed up with Paparzzi Proposals, The Proposal Planner and NBC's "Today Show" to devise a place to create the perfect moment.
With a fake tour set up for the couple on the deck of Intrepid the scene was set for the perfect proposal. Alzugaray excused himself to use the restroom and that is when the marching band started to march down the deck performing their routine. With the dancers holding signs that spelled "Marry Me?" Alzugaray appeared in a tux with a huge bunch of roses and dropped to bended knee. With cameras rolling and our team of paparazzi photographers snapping away the family appeared from the lift hold a massive sign with "Mission Accomplished" on it to finish off an amazing proposal.
The Brewster Marching band performed "I'll Be There."