News Based on facts, either observed and verified directly by the reporter, or reported and verified from knowledgeable sources.
Brewster Dominates Carmel Tourney; Indians Crowned at Mahopac Tourney
We are part of The Trust Project
By Tony Pinciaro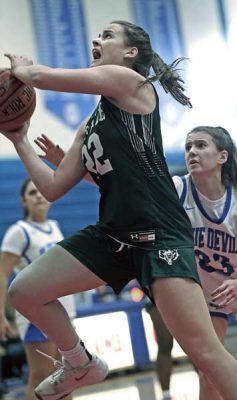 BREWSTER faced a major question coming into the 2022-23 girls' varsity basketball season. How would the Bears do without 2022 graduate Grace Galgano? All Galgano did was average a double-double last year (points and rebounds) and during her Brewster career amassed more than 1,000 points and 1,000 rebounds. Galgano, who is now playing for Roberts Wesleyan, could dominate games both offensively and defensively.
Through the first month of the season, Brewster has made the adjustment as the Bears closed out December with a 7-3 record. Brewster defeated Haldane (61-31), in the first round, then Horace Greeley (47-40) in the final to win the Carmel Tournament.
"These first 10 games have been up-and-down because we are so young and inexperienced, but we are finding ways to win," Brewster Coach Mike Castaldo said. "When you graduate a player like Grace Galgano, the program's best player of all-time, who scored over 1,000 points and grabbed over 1,000 rebounds, it's fun to watch girls step up and take on new roles.
"Madison Dakin and Jordan Niles have been our two most consistent and best players all year, but we are receiving great contributions from different girls every game. Bre Washington, Lauren Leon and Olivia Francis all have had great games for us, at some point, throughout the season. It's been a great start, but we need to continue to get better as we start league play where each game is going to be a battle."
The Bears received balanced scoring in their win over Haldane as Dakin finished with 14 points, and seven rebounds, Niles added 13 points, and six rebounds and Lauren Leon scored 12 points.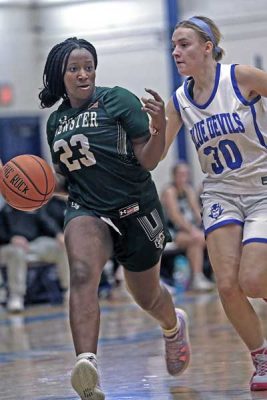 The championship game was tight through three quarters – even at 33-33 – before the Bears defense held Greeley to seven points in the final quarter.
"Jordan and Madison had huge fourth quarters for us as Dakin had eight of her 14 points in the final frame and Niles dominated the glass on both ends," Castaldo said. "Bre had her best game of the season. She did everything for us, hustle plays, tremendous defense and had great energy the whole game. This was a great win for us, I'm proud of the girls on how they adjusted in the second half. Greeley is a very good team that is well-coached, we needed this win.
Dakin also collected nine rebounds and Niles had 10 points and 12 rebounds. Francis added 11 points, including nine in the third quarter.
MAHOPAC dominated its two opponents in winning its own tournament. The Indians beat Clarkstown North (first round) and Rye (final) by a combined 51 points.
"It was great to have the opportunity to win the tournament on our home floor," first-year Mahopac Coach Mairead Hynes said. "I think we played really well. It seems like things are starting to mesh. Our team has a great attitude and energy for the game. I'm excited to go into the new year with a couple of more wins."
Mahopac, now 6-1 this season, opened the tournament with a 66-36 victory over Clarkstown North. Lauren Beberman, who was named the tournament MVP, scored 12 points and collected five steals. Fiona O'Boyle, an all-tournament selection, also had 12 points and added six rebounds. Gianna Risopli finished with 11 points.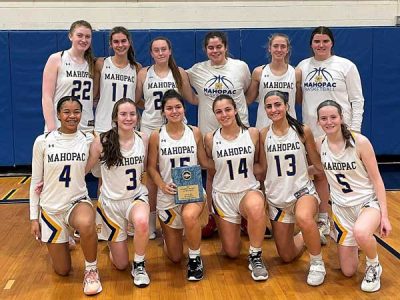 In the title game, Mahopac almost doubled up Rye, 52-27, behind a game-high 21 points and seven steals from Beberman. O'Boyle added 15 points and six steals.
Mahopac resumes play Jan. 4 against Section 9 opponent Poughkeepsie.
PANAS concluded December and the calendar year at 6-0 after cruising to the Nyack Tournament title.
The Panthers secured a pair of decisive wins – 55-41 over Suffern in the first round and 63-37 over the host school in the final.
"We feel good about our start," Panas coach Matt Evnagelista said. "Our defense was strong, again, in the tournament. Our offense was good in stretches. Kelsey returning has helped our rebounding and the offense, as well."
Cadence Nicholas filled out the statistics' sheet against Suffern with 15 points, six rebounds, five assists and five steals. Sofia Tavarez contributed 12 points and five steals and Kelsey Cregan returned to score 10 points and add seven rebounds.
Tavarez led Panas to the title with 16 points and eight steals in the title game to earn the most valuable player award. Cregan, who was selected all-tournament, had a double-double – 15 points and 10 rebounds and Nicholas finished with 15 points and five rebounds.
Panas resumes play against Brewster, Wednesday, Jan. 4.
HORACE GREELEY split two games to close the first month of the season with a 4-4 record.
The Quakers opened the Carmel Tournament with an 82-33 victory over the host Rams behind a well-balanced scoring performance as four players reached double figures.
Emma Rose connected on six 3-pointers, finishing with a game-best 20 points. She also had six assists, five rebounds and three steals. Bella Schulam had 18 points and five steals, Allie Mosca added 15 points, five assists, four rebounds and three steals and Georgia Sack contributed 12 points. Sophomore Caroline Negrin, in her first star, scored a career-high nine points and added nine rebounds. Meredith Feiner also grabbed nine rebounds.
Rose led Greeley with 12 points, but Brewster defeated the Quakers in the title game, 47-40.
Sack added eight points and Feiner pulled down a career-high 17 rebounds.
"It was a great team win over Carmel," Greeley Coach Sarah Schum said. "The girls had 27 assists. I love when they work as a team and share the ball. The Brewster game we gave away a win. We had great looks in the first half and we couldn't finish. We let them hang around then were caught on our heels. Credit to Brewster for playing tough and disrupting our shots."
"Overall, the girls are playing hard," said Schum, a captain on the 2007 Lakeland state-champion girls' basketball team. "We've seen flashes of great play, which is exciting. We just have to all get on the same page. If we can get down to playing as a team and sharing the ball we could be a very scary team."
The Quakers open January against Ossining (2-5), Friday, Jan. 6.
FOX LANE showed resilience after opening the Pelham Tournament with a 34-28 loss to Somers. The Foxes returned the next day and beat Poughkeepsie, 58-46, in the consolation game.
"Poughkeepsie was the perfect bounce-back game, because we matched up so well against them," Fox Lane coach Kris Matts said. "We were faster at four of the five spots and we took advantage of it the entire game.
"When we went on big runs we did it by running the floo and sharing the basketball. A dominant win in which 10 of the 12 girls scored, everyone played and all contributed in some way, That's the way to close out 2022."
Lauren Antolino and Cora Moore scored 10 points apiece in the win. Antolino, who was named to the all-tournament team, also registered six rebounds and three assists and Moore finished with five rebounds, four assists and four steals. Riley New contributed nine points, six assists and five steals and was chosen to the all-tournament team.
Fox Lane Coach Kris Matts cited freshmen Nora Dooley, Amanda Mazzuca and Natalie Mazzuca for scoring their first varsity points in the tournament. Morgan Clinton led Fox Lane with 10 points against Somers. The Foxes, 2-3 this season, return to the court against Saunders, Friday, then host John Jay-Cross River, Saturday.
HALDANE went 1-1 last week and improved to 2-4 on the season. The Blue Devils dropped their first-round game in the Carmel Tournament to Brewster despite 11 points from Kayla Ruggiero. Haldane bounced back to beat Carmel, 50-38, in the consolation game as Camila McDaniel scored a team-best 12 points.
"It was a great team effort," said Haldane Coach Ed Crowe of the win. "Against Brewster, we played well in spurts, but against Carmel, we played a complete game. We led throughout and also played with great intensity."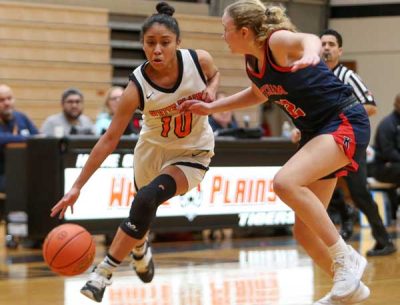 WHITE PLAINS and 2022 Section 1 Class AA champion R.C. Ketcham were in a tight game after the first quarter, but the Indians took over in the second quarter. Ketcham held White Plains to two points in the second quarter in an eventual 53-49 victory. White Plains trailed, 12-10, after one, but the second quarter was its undoing as Ketcham went into halftime with a 29-12 lead.
"We had too many defensive breakdowns and got cold offensively," said White Plains' Coach Benj Carter of the second quarter. "RCK got loose hitting open 3-point shots and a few easy two-point baskets. The second half was a battle. At the end of the third quarter RCK was up 44-27. We fought back in the fourth quarter and cut the lead to four points to only come up short. RCK was solid offensively and defensively, making little to no mistakes."
Ineivi Plata led White Plains with 12 points and Sequoia Layne added 10 points.
SOMERS beat Fox Lane, 34-28, in the first round of the Pelham Tournament behind 10 points from Lauren McCartin.
However, the host school beat the Tuskers in the final.
CARMEL hosted its tournament, but the Rams came out on the short end against Horace Greeley (first round) and Haldane (consolation).