Bon Jovi Turns Out for Special Evening of Music, Fundraising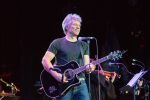 By Aaron Notis
Jon Bon Jovi is a man of his word. When his close friend and former entertainment attorney, Jerry Edelstein, needed a kidney nine years ago, the Flood Sisters Kidney Foundation came to the rescue, securing a life-saving living donor match for Edelstein.
Thankful that his friend received this gift of life, the Grammy Award-winning artist who will be inducted next month in the Rock & Roll Hall of Fame, performed a concert Mar. 4 to a sold-out Tarrytown Music Hall to benefit the foundation.
"I am deeply grateful to the Flood Sisters Kidney Foundation…With the knowledge they gained during the fight for their father's life, Jennifer, Cynthia and Heather Flood created a life-saving organization to help others. That's the epitome of 'paying it forward,'" said Bon Jovi, who dedicated the concert to Edelstein.
Mesmerizing the crowd last week with acoustic versions of his classics, including "Livin' on a Prayer," "Lost Highway," "Maybe Someday" and "You Give Love a Bad Name," Bon Jovi put on an interactive show, answering questions from the audience and telling short stories in between songs. He told the audience that his musical inspiration included Queen, Aerosmith, Bruce Springsteen and Led Zeppelin.
Audience members also asked him about his family life. The crowd laughed when Bon Jovi answered that he is in charge of doing the dishes when he is home.
The Flood Sisters Kidney Foundation was started 10 years ago by the three sisters, all of whom were raised in Pleasantville. In 2008, when their father, Daniel, went into kidney failure, his daughters posted an advertisement for a living donor on Craigslist.
A reporter at the news radio station WCBS 880 saw the advertisement and interviewed the family, helping them to reach thousands of people. After interviewing multiple volunteers, they were able to find a living donor for their father in California.
The experience helped the sisters realize that they could help other families. They started The Flood Sisters Kidney Foundation and have now successfully connected 11 people in need of a kidney with living donors.
Today, kidney disease affects nearly 15 percent of the U.S. population, and the wait for a donor kidney from a deceased donor could take between five and 10 years.
"The gold standard for treatment is a transplant," said Heather Flood. "The platinum treatment is a living donor transplant. Many die waiting every hour."
Opening for Bon Jovi was the New York City-based band Oak & Ash. Formed in 2014, Oak & Ash was the winner of Newsday's Battle of the Bands contest and Bon Jovi's 2017 "Opening Act Contest," which promoted up-and-coming musicians.
In addition to performing, Bon Jovi donated a signed guitar to the benefit's live auction, which raised $8,500. A new BMW was also auctioned off and sold for $46,000.
Roseanne Flood, mother of Cynthia, Heather and Jennifer and the Flood Sisters Kidney Foundation's treasurer, highlighted the importance of the event.
"We are trying to reach the goal of sustainability. It is incredibly beneficial to have the support of a talented musician like John Bon Jovi to help us to reach that goal," she said.
Cynthia Flood agreed. "We are so blessed and grateful to have Jon Bon Jovi involved in this awesome event," she said. "We hope to create more awareness for kidney disease, and more importantly, living donation."
For more information about the Flood Sisters Kidney Foundation, visit https://floodsisterskidneyfnd.org.