Board of Legislators Approves Gun Show Ban at County Center
We are part of The Trust Project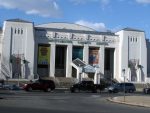 The Westchester County Board of Legislators approved a law this week banning gun shows from being held on county-owned property.
Following intense debate last year between county officials, lawmakers voted 12-5 along strict party lines. The Democrats, who unanimously supported the measure, maintained that county property shouldn't be used to promote or encourage the sale of guns.
"We believe most people are responsible gun owners, but it's not about that, it's about what we as a county promote," Legislator Catherine Borgia (D-Ossining) said. "You are allowed to buy guns in Westchester County, there are many ways to do so, but I believe it's not appropriate that the county endorse and sponsor gun shows in our facility. So, I'm very happy that the work of many of my colleagues, former and current, is coming to fruition."
Last month, County Executive George Latimer issued an executive order banning gun shows from being held on county-owned property urging lawmakers to make his order an official law. He recognized that some may disagree with the decision but strongly believed that many residents support the ban.
"By voting this act in tonight we emphatically endorse that act and convert it into law and hopefully this will stem the tide of gun usage in the United States and especially in Westchester County," Vice Chair Alfreda Williams (D-Greenburgh) said.
The Board of Legislators passed a similar gun show ban last year by a 9-8 margin – also along party lines – after former county executive Rob Astorino scheduled the Northeast Gun Show at the County Center. But days before the scheduled show, Astorino vetoed legislation without any time for an override vote, stating he was protecting First and Second Amendment rights.
From 1999 to 2010, the county discontinued gun shows. Astorino lifted the ban after taking office and one was held at the County Center in 2012. However, after the Sandy Hook Elementary School tragedy in Newtown, Conn., a 2013 show was canceled, and there was a handshake agreement among county officials that the venue would no longer host the shows.
A push was also made by members of the Democratic Caucus last October to override Astorino's veto following the mass shooting in Las Vegas that killed 59 people and injured more than 500. The action was denied.
Legislator Nancy Barr (D-Rye Brook) said residents within her district want to limit the number of guns in the county. Referencing the Sandy Hook massacre, she stressed that the board should do what it can to prevent future tragedies.