Blues Traveler Headlines July 8 P'ville Music Festival Lineup
We are part of The Trust Project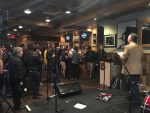 Cheers went up Sunday night at Lucy's Lounge in Pleasantville as the lineup for the 13th annual Pleasantville Music Festival was announced, headlined by the Grammy Award-winning band Blues Traveler.
Festival Executive Director Bruce Figler made the announcement of the 18 confirmed performers for the July 8 festival at Parkway Field between sets performed by Talay, the festival's 2015 Battle of the Bands winner.
Blues Traveler is best known for their hits "Hook" and "Run-Around," which earned them a Grammy Award for best rock vocal performance by a duo or group in 1995.
The Main Stage will also feature Grammy winners Living Colour, Grammy-nominated singer-songwriter Suzanne Vega, Queens-based rock band Hollis Brown and Hastings-on-Hudson pop artist Caleb Flood.
"What I try to do is get something for everyone or as close to everyone that I can," Figler said. "I always try to make sure that everyone who comes to this festival is going to see someone on that bill that excites them."
The Chill Tent will feature New York-based pop-rock band Ghost Millionaires, Carmel singer-songwriter Hailey Knox, Hudson Valley bluegrass group Shovel Ready String Band and English singer-songwriter James Maddock. Boston-based rock band Pousette-Dart Band will serve as the tent's headliner.
The Party Stage will include folk-rock band The Alpaca Gnomes, Nashville's Arc & Stones, Connecticut rock band Circadian Rhythm, rock band Stellar Young and Ripe, a Massachusetts pop-funk group.
In addition, the three winning groups that will emerge from the festival's ongoing Battle of the Bands will open the festival at noon on the three stages. The competition, which features local musicians 26 and under, will also award scholarships to the winning musicians to attend Lagond Music School's summer program in Elmsford.
"This festival is for people who don't want to put up with the difficulties of other festivals," Figler added. "You're not stuck in traffic for hours or surrounded by a bunch of drunk people, you don't have to give up an entire weekend or travel far, it's a family friendly event."
Tickets cost $45 for adults and $30 for students (12 to 21 years old) and seniors (65 and up) through July 1. From July 2-7, tickets for adults will increase to $50. Prices will rise to $60 for adults on the day of the festival and $35 for seniors and students. Children under 12 years old are free.
Tickets can be purchased online through Ticketmaster and at the Pleasantville Recreation Center, located at 48 Marble Ave. next to Parkway Field, 8 a.m. to 4 p.m. Monday through Friday. All ticket sales at the recreation center may be made in cash or check only.
For more information, including how to volunteer for the event, visit www.pleasantvillemusicfestival.com.