Ben's of Scarsdale to Celebrate Hanukkah With Special Offers
We are part of The Trust Project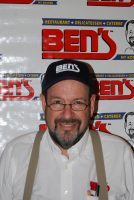 A new catering program has been announced by Ben's of Scarsdale that includes two specially planned deals for Hanukkah.
One of the promotional discount deals is called "Lotsa Latkes" and is for four different versions of miniature latkes; the other is a catered dinner package for six guests priced at $129.99.
Also, a standup comedy night called "Latkes and Laughs" is scheduled for Saturday, Dec. 3 and will include a $45-per-person, prix fixe dinner. Stevie CB, Pat Shea and Steve Schlesinger will entertain.
Other packages to be offered at Ben's during the holiday season include a 40-person banquet ($999.60); a "S'more-gasbord" for 20 guests ($499.80) and a Party Platter Plus for 10 ($159.90).
Customers who purchase three dozen mini latkes ($36) will earn another
dozen free and receive 25 percent off on each additional dozen.
The latkes are available in potato and three additional flavors – sweet potato, zucchini and spinach – and can be ordered from Dec. 19 to Jan. 1. Flavored options will be available in-store starting Dec. 23.
All four latke flavors offered differ from traditional latkes because they include nutmeg, said Ben's founder Ronnie Dragoon.
Ben's $129.99 catered Hanukkah dinner comes with two quarts of chicken noodle soup, including six matzo balls, and three whole chickens with stuffing. Instead of chicken, customers can opt for 2.5 pounds of brisket for $10 more. All orders include a pound of rye bread, two dozen mini latkes with applesauce and a small relish tray. A choice of a quart of Ben's coleslaw, health salad or cucumber salad is also included.
The Party Platter Plus can be ordered with 48 hors d'oeuvres ($159.90) or without ($139.90). A choice is offered from a 3.5-pound cold cut platter with rye bread, 11 overstuffed sandwiches or a four-foot hero and 11 wraps. Salads and condiments including coleslaw, potato salad and relish are included.
Phone orders for catering of $100 or more are requested at least 24 hours in advance.
The $45 cost for the Latkes and Laughs comedy show on Dec. 3 includes tax, gratuity and unlimited soft drinks. Seating is at 7 p.m. Tickets must be paid for in advance.
Hanukkah is a festive, eight-day holiday that commemorates the victory of the Maccabees in their revolt against Syrian rule in 165 B.C. and celebrates the "miracle of the oil." A single day's supply of oil burned for eight days in the rededicated holy temple in Jerusalem.
Ben's of Scarsdale is located at 718 Central Park Ave. in Scarsdale. For more information, call 1-800-344-BENS or 914-468-2367 or visit www.bensdeli.net.