Bedford Road School Stuffs a Bus for Underprivileged Kids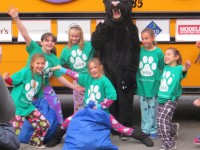 By Jon Craig
What can attract Pleasantville's mayor and police chief, a county legislator, news reporters with cameras, proud parents, smiling teachers, a principal-hugging-panther and a gym packed with hundreds of screaming students?
That would be the sixth annual Pajama Program's Stuff-a-Bus event, which came  to Bedford Road School last Friday to collect new sleepwear and books for less privileged children.
Pleasantville's students came through in high fashion, helping smash the Pajama Program's countywide goal of 5,000 pajamas by collecting more than 1,200 PJs last Friday. Other collections took place in schools in Ardsley, Armonk, Briarcliff, Elmsford, Scarsdale and Rye, as well as at the Ritz Carlton Hotel in White Plains.
Police Chief Richard Love led a parade of youths toting giant bags full of pajamas to the bus, where Mayor Peter Scherer was among the adults loading books and sleepwear. Pupils chanted "stuff that bus" as the goods were lugged and loaded onto a school bus decorated with Pajama Program logos.
Earlier, Bedford Road School Principal Peggy Galotti led a pep rally featuring cheerleaders, enthusiastic students and a giant screen with live video feed from the school bus as it got stuffed with books and pajamas. In keeping with the theme of charity during the holidays, Galotti said she plans to read "The Giving Tree" to students next week before the Thanksgiving recess.
The Pajama Program was founded in 2001 by Genevieve Piturro of Irvington. County Legislator Catherine Borgia (D-Ossining), who handles public relations for the nonprofit program, said nearly 5,500 pajamas and 4,400 books had been collected through Monday.
For more details about the effort, visit  www.pajamaprogram.org.