Bedford Councilman Announces BOL Candidacy
We are part of The Trust Project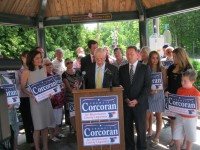 Veteran Bedford Councilman Francis Corcoran (R-C) announced his candidacy Thursday morning for the Westchester County Board of Legislators seat.
Corcoran, 52, will be opposed by Democratic Mount Kisco village Trustee Karen Schleimer. They will vie for the seat that was vacated by former Legislator Peter Harckham earlier this month.
"Family, community and service are the reasons I'm running," Corcoran said. "I've proven over the last 12 years as a councilman, in my community and as a leader in business and through my service in many important positions on the state level, that I have the qualifications, the expertise and experience to do the job and the passion to do it well."
Corcoran, surrounded by a group of supporters at the downtown Katonah gazebo including County Executive Rob Astorino, touted his bipartisan approach to represent the residents of Bedford and help the town through the economic crisis that started in 2008. The town has maintained its triple A bond rating and budget reserves and has preserved open space, he said.
Corcoran said he would fight to make Westchester more affordable by supporting responsible spending and lower taxes. The county also needs to combat the federal government's "overreach" in the affordable housing settlement by threatening "local control over zoning and planning and our property values."
"We need a legislator who will be a fearless and vocal champion for preserving our environment, protecting the character and quality of life we enjoy in Westchester, especially here in northern Westchester," said Corcoran, who until March was president of a national stock exchange and is now a real estate investor.
Astorino said the election of Corcoran would be important for his administration because the District 2 winner would be seated as soon as the results are certified, usually a few weeks after Election Day, a process that is required since Harckham resigned his seat. The new legislator would participate in the 2016 county budget process, which Astorino cautioned could be difficult.
The county executive said he needs allies that will make the hard choices to maintain crucial services but avoid raising property taxes.
"Francis will make those hard decisions," Astorino said. "He's made them here in Bedford and now it's time that he moves up to White Plains and on a countywide level, still protecting this district, he makes those decisions for the people of Westchester."
"I can't think of anyone else that I would rather have in White Plains fighting with me for all of Westchester than somebody who knows how important the environment is, knows how important services are, but never loses perspective that taxes are extraordinarily important and are driving people out of this county," Astorino added.
Schleimer said she is looking forward to the campaign against Corcoran and getting her message out to the public.
"I don't know him, but I'm confident that my record and past performance as village prosecutor and trustee will make a strong case to the voters," she said.
Harckham, who was elected in 2007, announced earlier this year he would not run for re-election, then resigned his seat on June 1 to join Gov. Andrew Cuomo's administration. On June 15, the Board of Legislators' Democratic majority appointed Lewisboro resident Alan Cole to fill the vacancy on an interim basis.
District 2 includes Bedford, Lewisboro, Pound Ridge, North Salem, Mount Kisco and a portion of Somers.