Bartolotti to Run for County Clerk After Sant's Announced Retirement
We are part of The Trust Project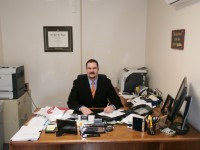 Following Dennis Sant's decision to retire at the end of this year, the position of Putnam County Clerk is up for grabs and one person within the clerk's office is already vying for the seat.
Michael Bartolotti, first deputy in the clerk's office, officially announced his intention to run for county clerk last week. Bartolotti started working for the clerk's office in 1996 as a part-time student worker and now 18 years later, he's looking to be the man in charge.
"It's almost my goal, my end game, like a dream," Bartolotti said in an interview. "I always loved working here. Having the opportunity to run for the office is just like coming full circle for me."
The lifelong resident of Putnam County is also an attorney after getting his degree from New York Law School. He's been the first deputy to Sant since 2002 and stated there won't be a learning curve if he's elected to office.
Bartolotti has been a licensed attorney since 2002 and has a small practice, but notes his primary focus is with the clerk's office. As of now, no one else has announced candidacy for the position. When Sant ran three times, he ran unopposed each time.
Bartolotti started in the office from humble beginnings. As a part-time worker, he filed boxes, reviewed correspondence and worked the counter. But there was always a love of being in the office, regardless of the role, he said.
And if he were to get elected, he said he'd continue to move the clerk's office forward. That includes expanding the F.A.V.O.R program, which serves veterans, expanding the use of technology for efficiency, and keeping the Putnam DMV local.
Bartolotti also said he would keep fighting The Journal News' request to obtain pistol permit records of residents, something that Sant originally denied them of when the newspaper requested the records in 2012.
"We looked at (The Journal News' FOIL request) and said this doesn't seem right," Bartolotti said. "There has to be a safeguard for the safety and privacy of these individuals."
He also wants to explore the revival of naturalization ceremonies back to Putnam County, which would allow residents to become citizens without traveling to other locations and facing backlog.
And Bartolotti already has a strong endorsement from Sant.
"No one has qualifications quite like Michael," Sant said. "He has worked every aspect of the county clerk's office. I couldn't think of a better person to replace what I'm doing."