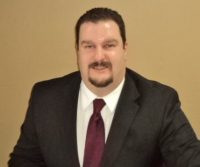 Finishing up his first term this year, Putnam County Clerk Michael Bartolotti wants to continue leading the clerk's office as he officially announced his reelection bid last week.
In a press release announcing the run, Bartolotti touted the progress the clerk's office has made during his tenure. In an interview, he said there was never a doubt he would look to stay in office for another four years.
"In my personal opinion this is the greatest job in the world," Bartolotti said. "I truly love coming to work everyday and I love being here, love being county clerk, love being part of the office."
Bartolotti, a Brewster Republican who began his tenure in 2015, said with the support of the entire office, he's been able to return naturalization ceremonies to Putnam, implement electronic filing of court records, obtain two grants worth more than $300,000, and increased passport acceptance outreach events.
The county clerk is the county register and clerk of the supreme and county courts and has numerous other responsibilities.
Bartolotti said the most satisfying aspect of his job has been overseeing the naturalization ceremonies that he brought back. He said swearing in a collection of new citizens has been the most humbling experience of his life.
"It is so cool just to know what all those folks went through to become citizens and to be able to bring them on that last hurdle it is beyond a doubt the coolest thing," Bartolotti said.
If re-upped for another four years, Bartolotti has several initiatives he wants to undertake and improve, including the launching of electronic recording of land records, exploring ways to establish mobile offices throughout the county, exploring technology to streamline office operations, and fighting for the county's fair share of DMW revenue from New York State.
Bartolotti also vowed to protect the rights of local gun owners. Part of that protection involves the county's never ending legal battle with The Journal News over the names and addresses of pistol permit holders. The county faced a firestorm in 2012 when it refused to turn over those names to the daily publication and soon after The Journal News sued the county for the information. The daily publication wanted to use that data to create a map of all pistol permit holders in Putnam, similar to Westchester and Rockland counties, which turned over their records to the newspaper.
The county lost its most recent battle with The Journal News, but has not released the names after two unnamed plaintiffs with the help of a guns organization sued the county in federal court and an injunction ensures no pistol permit information can be released at this time. That legal fight is currently in the courts, Bartolotti noted.
"I still do vehemently believe that it would be wrong to release that information in that wide of a scope," Bartolotti said.
When Bartolotti ran in 2014, it was to fill the seat held many years by retired county clerk Dennis Sant, a Republican. Democrat Lithgow Osborne challenged Bartolotti in a spirited race for the open post, but Bartolotti still secured a double-digit win over the current Philipstown Democratic chairman.
It is unknown if a Democrat will face Bartolotti this year and is unlikely that he would find himself in a Republican primary.
"I look forward to continue to serve and fight for the bests interests of the citizens of Putnam County, because this is the home I love and I am rewarded by having the pleasure to give back to my community that has given so much to me," Bartolotti said.