AWAH Unveils Spirit of Women Archives
We are part of The Trust Project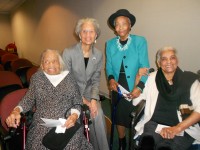 American Women of African Heritage, Inc. (AWAH) in collaboration with Westchester Community College and Westchester Community College Foundation unveiled the AWAH Spirit of Women Archives at a special ceremony at the WCC Harold L. Drimmer Library, March 26.
The first inductees to be recognized by the archive – which became live on Thursday – include Honorable Lois Taplin Bronz, Dr. Mary Lane Cobb, Dr. Olivia Hooker, and Mary R. Williams.
The creation of AWAH Spirit of Women Archives was an outgrowth of the AWAH mission to celebrate and preserve the legacy and accomplishments of outstanding women of African heritage in Westchester County.
In June 2008, several representatives from AWAH including then president and founder, Toni Cox-Burns, Delores Scott Brathwaite and Sandra Ross met with Westchester Community College President Dr. Joseph Hankin to discuss establishment of an archive that would be housed at the college.
Formal negotiations between the parties were completed in 2013 and the process of interviewing prospective inductees began.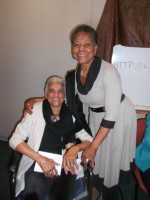 According to Francine Shorts, current AWAH president, there are a total of 13 living women and four deceased who already have been selected as inductees for the archives, including the four women whose profiles went live last week and others such as Ruby Dee, Judge Delores Scott Brathwaite and Vanessa Williams. "They come from diverse experiences," she explained.
The four women celebrated during the unveiling completed production of their profiles with two featuring informative videos.
At this time Shorts explained that AWAH is moving forward to establish a process for future nominations. "We welcome suggestions," Shorts said. "All of the women we have selected so far share the common thread of being highly visible and instrumental in making positive change in their communities. They have all given back in very significant ways."
The archives can be accessed online at: http://libraryspecialcollections.sunywcc.edu/.
"The reason we are doing this reflects back to the AWAH vision," Shorts said. "Ultimately we want to acquire and establish the AWAH Mansion, a place where we can provide the best employment and education services and community resources for our focus group, women and girls of African ancestry," – although Shorts acknowledged that services would be open and available to the Westchester community at large.