Avon Layoffs Ruffle Rye Cosmetic Workers
We are part of The Trust Project
By Jon Craig
The latest round of global layoffs announced last week by Avon Products Inc., totaling 600 jobs worldwide, includes dozens of information technology and finance employees at Avon's Rye facility on Midland Avenue.
Avon's Chief Executive Officer Sheri McCoy has been trimming costs ever since she was hired in 2012 to restore profitability at one of the world's largest direct, door-to-door cosmetics vendors. During the past three years, the company has confirmed 2,000 layoffs, or nearly 5 percent of its 40,000-member workforce when McCoy took charge.
Avon spokeswoman Jennifer Vargas could not confirm the exact number of workers affected in Westchester County, but said: "There was certainly an impact on our Rye facility. The facility's not being closed or anything like that."
Information technology jobs typically pay more than $100,000 a year in Rye, ranging from $90,000 to $150,000, according to figures provided by Avon employees. About 140 workers from the Rye facility were laid off last year. In 1995, when 160 Avon employees were transferred from Manhattan to Rye, there were 300 data-processing workers employed in Westchester County.
Vargas said the latest layoffs at the Rye location would not exceed 100 people, but definitely number in the dozens. The job cuts, mostly from the corporate organization and the North American business, are expected to save $45 million to $50 million a year before taxes, the company said in a statement.
About $40 million is expected to be reflected in the second quarter of this year. The "restructuring actions" are expected to result in annualized savings of about $50 million to $55 million before taxes as part of McCoy's "cost savings initiative."
McCoy has been cutting jobs and leaving markets as part of her plan to save $400 million by 2016. Avon is reviewing operations in smaller, underperforming markets that may be restructured or closed, the company said.
"These steps are related to continued efforts to right size the cost structure, improve organizational effectiveness, streamline processes to gain efficiencies and reduce costs across the organization," the company said.
Avon, which bills itself as "the company for women," is a leading global beauty company with $10 billion in annual profits. As one of the world's largest direct sellers, Avon is sold through more than 6 million active independent Avon sales representatives. Avon products are available in over 100 countries, and the product line includes color cosmetics, skincare, fragrance, and fashion and home products, featuring such well-recognized brand names as Avon Color, ANEW, Skin-So-Soft and Advance Techniques.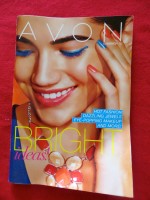 The cosmetics company has posted net losses in five of the past six quarters. The value of Avon shares have fallen 15 percent in the first six months of this year, valued at $14.63 on Monday, compared with an average 6.2 percent gain for Standard & Poor's 500 Index.
Avon has been struggling for years to turn around its business in the United States and emerging markets. Its sales in Brazil now outpace those reported in the U.S. The company was marred by a federal bribery probe in China that began in 2008 and spread to other countries. In May, Avon announced it would pay $135 million to settle the longstanding probe into whether it paid bribes in China and other foreign countries to gain favorable treatment. Avon said it would pay $68 million to the Justice Department and $67 million to resolve its dispute with the Securities and Exchange Commission.
Avon has been losing business in North America for years, despite experiments in jewelry, clothing and online sales. Younger consumers are increasingly turning to cheaper cosmetic brands at supermarkets, drug stores and department stores, according to analysts.
Meanwhile, Avon's sales have picked up in developing countries where consumers have increased disposable income for "extras" like makeup, jewelry and children's accessories and where door-to-door selling has become a growth industry.