Author Recalls History of Buying Lake Mahopac's Petra Island
We are part of The Trust Project
By Sherrie Dulworth
A private island estate is not a typical book launch backdrop, but as author Joe Massaro recounts in his recent memoir, "The Impossible Road: From The First Seat In The Dumb Row To My Own Private Island," he has taken many unusual paths throughout his personal and professional life.
During last Monday's event, the 75-year-old Massaro shared how he came to buy the 11-acre, heart-shaped Petra Island on Lake Mahopac with its cottage built by famed architect Frank Lloyd Wright, and how he created the 5,000 square-foot Massaro House, inspired by plans that Wright had drawn.
Getting there was not a linear path.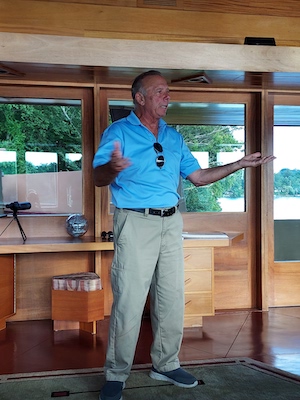 Massaro grew up in a working-class family in Elmsford, where he struggled, and often failed, in usual classroom academics. He said that he was often asked, "What is wrong with you?'"
Eleventh grade brought a pivotal change. Massaro signed up for autobody shop and drafting classes and earned his first "A's." He discovered talents that his undiagnosed learning disability didn't hamper. "If it wasn't for the shop and drafting classes, I would have been lost," Massaro later told me. "I don't know what I would have done."
At 19, he joined his uncle's sheet metal business and discovered he could improve work process efficiency and handle business negotiations. He later founded Elmsford Sheet Metal Works, an air conditioning and heating ductwork manufacturer and installation company that eventually employed more than 350 workers.
During the book event, Massaro‒host and raconteur‒recounted anecdotes replete with deal-making, fortuitous timing, and relationships, for an audience of local media, historians, and publicity professionals, along with a few friends and family, while sunlight poured through the home's 26 triangular skylights, illuminating the natural beauty of the African mahogany and stonework.
The house features a cantilevered living room and deck, a combined 75-feet, that overhang the lake. It also incorporates a 12 foot-high, 60-foot-long rock from the island into the interior and exterior design. The woodwork, built-in furniture, use of space, and surrounding water all contribute to the impression of being on a ship.
Melinda Miller and Jennifer Cassidy from the Putnam County Historian's Office attended the event. Miller said, "The Massaro's have brought Frank Lloyd Wright's vision to fruition as a showstopping complement to the original cottage on the island and all of beautiful Lake Mahopac." Cassidy added, "They have put Lake Mahopac and Putnam County on the map for architectural excellence. It is truly a landmark taking its place among other great sites and structures across the county."
Massaro and Barbara, his wife of 54 years, still enjoy the Massaro House, but now spend most of the year at their Florida's east coast property in Juno Beach.
Creating the self-published memoir was another first for Massaro. He used dictation and transcription software to compensate for his writing challenges. "I can't spell," he bluntly stated. His initial goal was to memorialize the stories for his family and friends, but as the book evolved, he felt his experiences could benefit a wider audience.
He shared, "I think it's a story on how you can apply yourself even if you don't have certain tools. You just don't quit. You just keep moving forward."
Massaro said it is his nature to seize opportunities, adding "I've never been afraid. I've always taken projects bigger than I could handle." He said he never tries to analyze all the 'what if' scenarios. "I look for what can go right and then handle the problems as they come," he explained.
He added that he believes the book also captures the legacy of the house. "This house is going to be here for a lot of years after I'm gone," he said. "I felt it needed the real story of how it came to be built."
Massaro isn't sure what his next project will be, but he is exploring several ideas. He said, "The thing I'm doing, which I've been doing all my life…I'm waiting for the next great opportunity to come along."
LINKS TO THE BOOK:
Amazon or Barnes & Noble.