Augie's Prime Cut to Sponsor Second Golf Benefit for Autism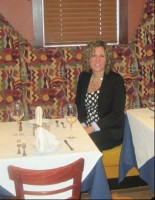 Augie's Prime Cut Restaurant & Bar in Mohegan Lake will be hosting its Second Annual Golf Tournament to benefit Autism Speaks on Monday, Aug. 6 at Hollow Brook Golf Club in Cortlandt Manor.
The day's events will begin at 9:30 a.m. with registration and breakfast. Play will begin with an 11 a.m. shotgun start. A box lunch will be served on the course. After the tournament, there will be a cocktail hour at 5 p.m., followed by a dinner and silent auction, at Augie's, which is located at 3436 Lexington Ave.
Autism is a cause close to home for the restaurant's owners, Audrey Hochroth and Sal Barone. They organized last year's and this year's tournaments in honor of their daughter Niki. Hochroth said Niki was diagnosed with autism at age 5 after a bout with encephalitis, a virus that causes inflammation of the brain. She said Niki recently turned 21 and is now living in a Community Based Services group home in Yorktown.
Hochroth said she and Barone had been involved in fundraising events for the Autism Speaks for the last eight years before ultimately deciding to stage their own last year.
"We did it at Garrison [Golf Club] and had the dinner by us," she said. "We had about 100 people at the dinner last year and 80 golfers, and we raised $45,000 and gave everything back. Autism Speaks — it's the Fairfield-Westchester chapter — they were amazed; they said [for a first-time event], they could not believe what we did."
Last year's silent-auction items included tickets to the Metropolitan Opera, a Weber barbecue grill, jewelry and sports memorabilia. Retired New York Giants linebacker Byron Hunt was the special guest. This year, it will be former New York Rangers left wing Nick Fotiu.
"We already think we're going to need a tent for how many people have said, 'We're definitely coming to the dinner.' We're hoping to raise close to $70,000 this year. We'll see."
Hochroth said the community has provided a lot of support for the event, in many cases by donating goods and services.
"Somebody gives the music for free, somebody donates bread … a lot of people in the community really do give back," she said.
Registration is $150 for the golf tournament and $100 for the dinner. Barone said the tournament will offer cash prizes of $400 for the first-place finisher, $200 for second place and $100 for third place. There will also be prizes for "Beat the Pro" on certain holes, as well as for the longest drive, longest putt and hole-in-one.
All contributions received by Autism Speaks from the tournament are considered charitable contributions and are tax deductible to the fullest extent allowed by law. Barone said all of the proceeds from the dinner and a portion of the proceeds from the tournament will go to the charity.
Augie's is also raising money for Autism Speaks by marketing its own steak sauce, Fat Sal's. The sauce is sold at the restaurant for $5 a bottle, and is expected to be in stores soon. Hochroth said 100 percent of the proceeds from the sales of the sauce is being donated to the charity.
Autism Speaks is dedicated to funding global biomedical research into the causes, prevention, treatments, and cure for autism; raising public awareness about autism and its effects on individuals, families, and society; and bringing hope to all who deal with the hardships of this disorder.
A new child is diagnosed with autism every 15 minutes, making it the fastest growing serious developmental disability in the United States today. The Centers for Disease Control and Prevention have called autism a national public health crisis whose cause and cure remain unknown.
The event organizers are also seeing sponsors, donors of gift bag and silent-auction items, and advertisers for the event journal. For further information, send email to info@augiesprimecut.com or call Hochroth at (914) 743-1357.