Auditor Tells Town Board Somers Finances in Solid Shape
We are part of The Trust Project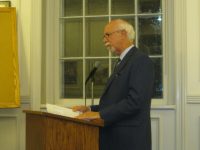 The Town of Somers is in solid financial shape, the town board was told by a representative of its outside auditing firm on Oct. 12.
Alan Kassay, a partner with O'Connor Davies, said his firm had given the town a "clean opinion" for the fiscal year ending Dec. 31, 2016. It is "the best opinion you can receive," he said.
Kassay said by the end of 2016 the town had a fund balance from the general fund of $6,597,000. One of the reasons for the large fund balance was the town received increased fees, including fees for the town's planning and engineering departments, he said.
The fund balance at the end of 2016 represented 42 percent of that year's budget, Kassay said. "It is a solid fund balance," he said.