Audit Reveals County Facing Steep Budget Deficits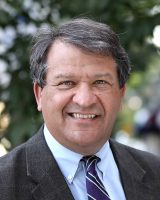 County officials pledged to fix Westchester's fiscal hardship after auditors revealed on Monday the county finished last year with a $32.2 million deficit and will continue to face financial struggles for the remainder of 2018.
During a Monday afternoon press conference, auditors from PFK O'Connor Davies briefed officials on Westchester County's Comprehensive Annual Financial Report for 2017. County Executive George Latimer said the county is presented with difficult circumstances that can only be fixed through a collaborative and transparent process.
The report, which was released June 26, shows that Westchester faces a projected $28.7 million deficit for 2018, on top of the deficit from last year.
"We are not happy to be in this situation, perhaps it was not unexpected, but we do not step aside from our responsibilities," Latimer said. "However this happened, whoever's watch it happened under, it is under my watch and our watch by which we will fix this."
Latimer suggested the deficit stemmed from unsustainable promises made by former county executive Rob Astornio, including a freeze on property taxes, failing to fund agreed upon labor contracts, closing budget gaps with one-shot deals and dipping into the reserve fund.
Officials also cited $15 million in budgeted revenue from an unfinished deal that was rejected by county legislators to privatize operations of Westchester County Airport.
Board of Legislators Chairman Ben Boykin (D-White Plains) said he's been concerned about the structural fiscal imbalance for several years, stating that he voted against many "unsustainable" spending plans that caused a substantial reduction in the county's fund balance to fill budget gaps.
Nicholas DeSantis, of PFK O'Connor Davies, said the fund balance has diminished by $35 million over a four-year period, from $169 million in 2013 to $134 million in 2017. He said the $32 million used from the fund balance last year was utilized to balance the budget because of insufficient revenues.
DeSantis stressed how the county has had to resort to short-term borrowing for its cash flow as the fund balance has consistently been diminished.
Boykin stressed that legislators are committed to working through the "financial mess" created by Astorino's administration.
"This is not a situation that has been created overnight and we're not going to solve it overnight," Boykin said. "It is our joint responsibility to seek opportunities to increase revenue, control expenses and rebuild our fund balance, so we can leave this county better off tomorrow than it is today."
Legislator Catherine Borgia (D-Ossining), chair of the board's Budget and Appropriations Committee, said officials are currently exploring ways to share services and reduce property taxes to lessen the financial strain on county residents.
"This is not a surprise, we knew that this problem was in the works," Borgia said. "The good news is that we have resources in Westchester County and there are ways for us to move the county back to sound financial standing." 
Latimer said his administration is currently examining every county contract to control costs and analyze the use of office space. Possibilities include moving county employees from rented units into owned office space, creating a robust shared services plan, exploring energy reduction initiatives and dissecting the tax revenue collection system to capture money that hasn't been collected appropriately over the years.
While Latimer said a plan hasn't been crafted to handle the 2018 budget, he said there has been no discussion of a property tax increase.
"The mission is to solve problems, to do our job, to make this county effective again and to do it without having to jack property taxes up, but by God, to do it and to go away from pure ideology and get to pragmatism and solve problems," Latimer said. "I'm not here to show off, I'm here to solve these problems right now with this group of people."