Astorino Vetoes Immigrant Protection Act, Cites Public Safety
We are part of The Trust Project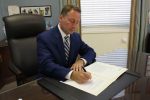 County Executive Rob Astorino vetoed the Immigrant Protection Act on Wednesday, a bill approved by the Board of Legislators that would restrain Westchester from using its resources for immigration enforcement, because he said it would jeopardize public safety.
Astorino said although the legislation is well-intended, it marks Westchester as a sanctuary county, ultimately placing it at risk and at odds with the federal government. His action followed months of bipartisan collaboration between county officials and community-based organizations.
"This is a very bad and very political piece of legislation, it labels us a sanctuary county and gives safe harbor to those who have committed crimes," Astorino said. "Unfortunately, it became a very political bill, one that jeopardizes public safety, and I won't put people at risk in our county."
Astorino added that by not cooperating with federal laws, the county could lose upwards of $13 million in federal grants. He also feels the act provides fewer protections for immigrants and restricts law enforcement officials from doing their job.
Department of Public Safety Commissioner George Longworth and President of the Westchester Hispanic Law Enforcement Association Hector Lopez agreed the bill would handcuff law enforcement officers, inhibiting their ability to communicate with outside agencies.
"(This act) does not do anything that it was intended to do and that is protect our immigrants. It puts everybody at risk and that cannot happen," Astorino said. "It's politics at its worst and politics that is most dangerous and that has to be stopped."
Following President Donald Trump's controversial executive order restricting travel by refugees and immigrants from seven predominantly Muslim countries, Majority Leader Catherine Borgia (D-Ossining) introduced the bill in February hoping to reduce fear in Westchester's immigrant community.
The Immigrant Protection Act, a measure that would prevent the county from expending resources to assist in federal investigations based on race, gender, religion, ethnicity or national origin, was approved 10-5 by the board on Aug. 7. Republicans James Maisano (R-New Rochelle) and David Gelfarb (Rye) supported the legislation. All eight Democrats in attendance voted for it; Legislator Lyndon Williams (D-Mount Vernon) was absent.
On Wednesday, Democrats said vetoing the legislation will make the county less safe because many immigrants will avoid relying on police.
"The county executive's veto is ill advised, wrong and insensitive to the most vulnerable in our society," Chairman Michael Kaplowitz said. "It endangers public safety by discouraging certain individuals from reporting gang behavior and other criminality to law enforcement."
Legislator Catherine Parker (D-Rye) also disputed Astorino's claim that the Immigrant Protection Act creates a sanctuary county. She said it complies with federal law and is necessary to protect county residents while President Trump is in office.
"His veto of the Immigration Protection Act may please his and Trump's political base, but it is wrong for Westchester," said George Latimer, one of two Democrats vying for the party's nomination for county executive. "Vetoing this bill will cost taxpayers money and make our county less safe."
While Borgia said she expected Wednesday's veto, she called Astorino's explanations blatant fear mongering riddled with falsehoods.
"The county executive's words and actions – in line with his friend President Trump – will not stop our efforts," Borgia said in a statement. "Our caucus strongly supports a vote to override this veto."
The bill would need support from 12 of 17 legislators to override the veto.
However, Minority Leader John Testa (R-Peekskill) said there is insufficient response support for an override.
"If the Democrats insist on going through with an override vote for the purpose of creating a political spectacle, the county executive's veto will be sustained," said Minority Leader John Testa (R-Peekskill) who opposed the bill.
The New York Immigration Coalition is planning to hold a demonstration outside the Westchester County Building in White Plains within the week to protest Astorino's veto.