Astorino Unveils 2016 $1.8B Budget With No Tax Increase
We are part of The Trust Project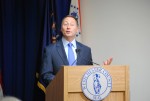 Westchester County Executive Rob Astorino introduced his 2016 budget Friday to county officials and the press, his sixth consecutive spending plan without a tax levy increase.
The $1.8 billion budget maintains what Astorino called his two key goals: no tax levy increase and no use of the county's unrestricted fund balance. As in the past five years, tax increases were not an option, he said.
"I will veto any budget with a tax increase," Astorino said.
The 2016 budget includes a $180 million capital fund, $18 million for water, sewer and refuse districts and another $18 million for county airport improvements.
Astorino used the presentation to criticize unfunded state and federal mandates that Westchester is forced to comply with. The county is required to spend $1.35 billion for such programs, Astorino said, but only receives $424 million to fund them.
"That $926 million difference, 100 percent of it, every dollar we take in from property taxes, goes right out the door to pay for that," Astorino said. "And 70 percent of our sales tax is now being paid to these mandate costs."
Sales tax revenue declined this year due to inclement winter weather that kept consumers homebound along with dropping gas prices, he said.
Under the proposed budget there will be no cuts to county Bee-Line bus routes, libraries or childcare programs, which will keep the current parent contributions at 27 percent. Some late night and weekend bus stops may be eliminated due to low ridership.
However, some nonprofit organizations will see their funding slashed. There will be 20 percent funding reductions for Legal Services of the Hudson Valley and the Hudson River Museum and a 70 percent cut to Cornell Cooperative Extension funding. In addition, 25 positions in various departments are slated to be eliminated. Those cuts follow a buyout of 158 employees over the summer. Another 60 vacant county positions will be eliminated.
To minimize layoffs, Astorino's budget plan calls for bonding $11 million to pay for tax certiorari settlements.
"Because of our very strong credit ratings, it will cost about $60,000 a year in interest, which relatively speaking, is fairly low," Astorino said. "If we decided to pay off the entire $11 million in cash, which I'm open to if that's what the board chooses to do, it would require about 110 additional layoffs."
Astorino also called for state pension amortization of $3 million, down from $15 million this year.
"Going forward we will cash up and pay in full our pension obligations every year," he said. "We still have to pay back the original borrowing, but we're now stabilized."
Legislator Ken Jenkins (D-Yonkers), in a statement released Thursday afternoon in advance of Astorino's presentation, called the bonding "fiscally irresponsible" and said it would lead to another credit downgrade for the county. The Westchester County Association and Business Council of Westchester have objected to the reliance of borrowing for operating costs. Representatives from both organizations have stated the budgeted sales tax increases were overly optimistic, he said.
Jenkins said a downgrade would cost Westchester residents millions on the $1.3 billion worth of capital projects. The county's AAA credit rating has been maintained by both Standard & Poor and Fitch Ratings, while Moody's recently downgraded the county down to an AA1 rating.
"The Astorino administration's continued reliance on fictitious revenue when budgeting has led Westchester to this credit precipice," Jenkins stated. "Those responsible for these budget projections should be first on the list of any proposed layoffs in 2016."
Board of Legislators Chairman Michael Kaplowitz (D-Somers) said the board supported keeping tax rates level, but said cuts to nonprofits and the 25 proposed layoffs needed more review. The proposed $11 million tax certiorari bond also needed to be carefully considered, he said.
"That cost, in an ideal world, should be included in our operational expenses," Kaplowitz stated.
The Board of Legislators has until Dec. 27 to adopt a 2016 budget. Board members will begin the budget review process at their Nov. 16 meeting.
There have been three public hearings scheduled to elicit feedback from the public: Thursday, Nov. 19 at Yonkers Public School 30 in Yonkers; Tuesday, Nov. 24 at Horace Greeley High School in Chappaqua; and Wednesday, Dec. 9 at the county office building. All three hearings begin at 7 p.m.