Astorino Seeks Union Concessions to Fill $86 mil Budget Hole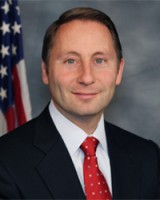 At a press conference earlier today Westchester County Executive Robert Astorino appealed to the county's employee unions to help him minimize layoffs that would be necessary to balance the 2013 county budget by agreeing to contribute to the cost of their health care. At the same time Astorino vowed that he would not raise taxes to fill a potential $86 million budget hole.
"Here is the stark reality: Our revenues do not keep pace with automatic spending increases," Astorino said. He described the challenges of balancing a budget that, without spending cuts, would have an $86 million hole next year due mainly to state-mandated costs that will go up automatically on Jan. 1. "The job before us is to figure out a responsible way to maintain services at  a cost affordable to taxpayers."
Astorino must submit his proposed 2013 budget to the Board of Legislators by Nov. 15. The board then has until Dec. 27 to adopt a final spending plan. Under county law, the budget must be balanced.
Plugging the $86 million shortfall could require as many as 800 layoffs, or a 16 percent reduction in the workforce. Astorino said such a number is unacceptable and he would propose some measures to bring it down. However, he said he would need help from the unions as well.
He urged the Civil Service Employees Association (CSEA), the Police Benevolent Association (PBA)  and the three other county unions (the Superior Officers of the PBA, the New York State Nurses Association and the District Attorney's Investigators PBA) currently without contracts  to agree to his "jobs for savings" plan, where they pay a portion of their health care costs as a way to save jobs.
"I am asking – pleading – with the unions and their members: work with me and my team to save jobs," Astorino said.
A statement released to the media after the news confernce said health care for employees cost the county about $120 million this year and is projected to increase to $125 million in 2013. Three other county unions have, through collective bargaining, already agreed to contribute to their health care: Teamsters Local 456, which represents middle-level management; the Correction Officers Benevolent Association (COBA); and the Corrections Superior Officers Association (SOA). Also, non-union managers at the county, including Astorino and his staff, have been paying for health care since Astorino instituted the reform shortly after taking office.
Astorino said that the county and representatives of the CSEA – the county's largest union with approximately 3,300  members –  will be meeting with a state mediator next week to try to resolve the contract. The CSEA's last contract expired Dec. 31, 2011, and because of the state's Triborough Amendment remains in effect until new terms are negotiated and ratified.
"I urge them to use all available resources and efforts to reach an agreement that preserves jobs and  services," he said. "Layoffs hurt everybody. Health care contributions can provide significant savings, which can greatly reduce the number of layoffs we are facing."
County Legislator and Republican Minority Leader Jim Maisano of New Rochelle, speaking at the conference on behalf of his caucus, said: "It is the best interests of everyone in Westchester County that our unions settle contracts with health care contributions before a budget is submitted next month."
In preparing his proposed budget for 2013, Astorino said that he was following the same approach that was adopted on a bipartisan basis with the Board of Legislators for the current budget:  No increase in the county property tax levy and no use of the unrestricted reserve fund.
"Taxes are off the table," he said. "We are already the highest taxed county in the country. Raiding the reserve fund is a non-starter because that would jeopardize our triple A credit ratings. If we are downgraded , our borrowing costs go up and running county government becomes more expensive. Our focus is on preserving the most essential services and bringing down costs to pay for them."
In addition to layoffs, Astorino said there were other options available to partially address the $86 million shortfall, but none of them are ideal. These include:
Departmental cuts –  Every department is looking at ways to reduce spending, but this inevitably means some service cuts.
 Borrowing – The county can borrow to pay for pensions and tax certioraris (court-ordered property tax refunds), but the money has to be paid back with interest.
Discretionary spending – Also under review is the money the county spends to fund outside non-profit cultural and social agencies, such as libraries, museums and after-school programs.
"The job is to determine – in an objective way – what are the most essential services and what are the smartest and least painful ways to pay for them," Astorino said.
            Driving the costs for next year are a variety of programs with automatic increases that will take place Jan. 1. These include:
The county's share of Medicaid –  the federal and state mandated program to provide health care for the poor – will go up $8 million (to $224 million).
Employee pension costs would go up $12 million (to $91 million). This is a state mandate.
Employee health care would go up $5 million.
These increases will not be offset by new or rising revenues. The county's portion of the sales tax is projected to generate about 3 percent more next year  – but not a sufficient amount to offset the mandated costs in spending. State and federal aid is expected to be down slightly.
Money raised from the county property tax will remain the same at $548 million.
—Office of the Westchester County Executive
CSEA Response
CSEA Westchester County Unit 9200 President Karen Pecora  issued the following response to County Executive Rob Astorino's 2013 county budget preview:
"Our CSEA team has worked diligently throughout the negotiations process and we will continue to do so," Pecora said. "Throughout negotiations, we've maintained an open mind when weighing the county's proposals. Everything is on the table."
"What we haven't heard from the county, however, is a contractual offer of job security for our members if we are to agree to the county's proposals," Pecora continued. "This is very troubling to me and it is a tremendous area of concern for the rank and file membership. Workers have the very legitimate concern that they could have the rug pulled out from under them after a contract settlement and the county executive has said nothing thus far that rules this out. We're ready to roll up our sleeves at our next mediation session and work toward an agreement that is fair to all."
—Office of the Westchester County Executive