Astorino Reveals Plans to Revitalize Playland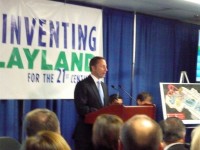 Westchester County Executive Rob Astorino announced last week plans to transform historic Playland back into a revitalized county park.
Astorino signed a letter of intent last Thursday with Sustainable Playland, a Rye-based nonprofit organization formed by a group of residents in hopes to breathe life back into an amusement park that lost $3 to $5 million annually in recent years and has seen a significant attendance decline. The proposed plan calls for a complete makeover, specifically focused on making Playland a year-round destination for residents in and around Westchester.
"We want this as part of tourism, to be an economic boost continuously and bring dollars in that would not come here, and that this would be a destination for people in the entire tri-state area," Astorino said.
The park would see major changes during the proposed renovation, with the opportunity to create more open space while limiting the amusement rides offered. The $34 million in capital improvements would feature a mini water park and beach attractions, indoor and outdoor ball fields, a renovated indoor ice rink, a new outdoor winter rink, and a Great Lawn, which could be used for varied events. If one aspect of the park fails, Astorino said that doesn't mean the rest will as well.
Overseeing the renovation, as the "asset manager," will be Biederman Redevelopment Ventures, which restored Manhattan's Bryant Park. Dan Biederman, a Chappaqua resident who's heading the operation, said the new vision for Playland could be comparable to Tivoliin Copenhagen, a famous amusement park and pleasure garden that attracted the fourth most visitors inEurope.
"This is a great site," Biederman said of Playland. "We're really excited to work on it, beautify it."
Following a two-year search that attracted 12 proposals, the county and a citizens committee decided Sustainable Playland met the criteria to move the site into the future. A combination of vision, management, attractions, and finances is what made Sustainable Playland the best option, Astorino said.
Under the proposal, led by the organization's president, Dhruv Narain, Sustainable Playland would make $34 million in capital improvements to the park.Westchesterwould receive an initial payment of $4 million and then at least $1.2 million a year, depending on the park's revenue, in hopes of alleviating the $32 million debt as a result of a currently failing Playland.
The day ended with Astorino and representatives from Sustainable Playland walking out of Playland's Ice Casino to the tunes of Stepinac's High School's marching band and signing the letter of intent with the park as a backdrop. Despite the pomp and circumstance, some Westchester lawmakers weren't as sold about the potential plan.
In a press release following the announcement, Democratic members of the Westchester County Board of Legislators posed various questions and reiterated the requirement to be part of the planning process.
"Instead of collaborating and working together with the Board of Legislators on the future of Playland and many other issues, County Executive Astorino repeatedly chooses to look for political battles that are unfair to the people wanting to work withWestchesterCounty," Board of Legislators Chairman Ken Jenkins stated.
Legislator MaryJane Shimsky (D/Greenburgh), who attended the October 11 announcement, called the proposal interesting but said multiple questions still exist, including whether the plan is best for Westchester taxpayers; what the full range of activities that would be offered; making sure the park stays affordable; and the number of jobs it would create.
"These are obviously things (we need to do) before we sign over the best piece of public park land in Westchester County to a private entity. We need real answers," Shimsky said.
Legislator Bill Ryan (D/White Plains), who also attended the press conference, said the Board of Legislators had no input in the proposal, but for the plan to go into effect he expects lawmakers to get involved.
"In my view they have to be," Ryan said. "We can't arrive at a judgment where we will provide what I view is an essential authorization for this unless we fully understand what's being proposed."
With the need for the Board of Legislators' oversight, the county said it hoped to agree on a formal contract with Sustainable Playland within 90 days.