Astorino Paints Grim Financial Picture in Cortlandt
We are part of The Trust Project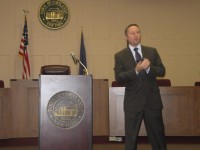 Westchester County Executive Rob Astorino returned to familiar roots when he held a Town Hall meeting in Cortlandt last week.
As a youngster, Astorino lived on Locust Avenue and attended Lincoln Titus Elementary School until the fourth grade.
"I still have such great memories," Astorino told approximately 75 local officials and residents. "It's nice to see some old friends. It's great to be back."
What wasn't so great was Astorino's financial state of the county, where earlier this month he reported Westchester had an $86 million deficit and could be forced to lay off 800 employees. While he conceded 800 workers would not be given pink slips, Astorino maintained several hundred jobs would be lost if an agreement with the union wasn't reached before he unveils his proposed 2013 county budget in mid-November.
"Either the cost of labor has to get less or we have to have less employees. It's simple math," he remarked. "If my (three) kids will ever have an opportunity live in this county like we did when we were growing up, we have to get the taxes and spending under control. The people here are barely hanging on. We have to make changes."
Paying homage to Cortlandt Supervisor Linda Puglisi's unmatched 20-year record of keeping town taxes virtually unchanged, Astorino vowed not to raise county taxes for the third year in a row.
"When you don't have the money you have to make some difficult choices," he said. "We're drowning right now as taxpayers and the state throws us no relief whatsoever. Our nostrils are just above the water level."
Answering a question from the audience, Astorino said he supported the Indian Point nuclear power plants, noting the Buchanan facility had the highest safety rating of the 104 nuclear plants in the country.
"I believe the plant should stay open. Unless you have a reliable and realistic way to replace those 2,000 megawatts, that discussion should not even be had," he said. "It's a very important part of this community. My concern is safety with the plant if we ever had to do something in case of an emergency."
Astorino also spent a considerable amount of time discussing the controversial affordable housing settlement that requires the county to construct 750 units of fair and affordable housing in 31 eligible communities by 2016.
Despite legal wrangling with the U.S. Department of Housing and Urban Development over certain language in the settlement, Astorino said the county was ahead of schedule complying, with 671 units already "in the pipeline."
"We're standing firm on matters of principle," he said. "I will not go one step beyond what we're supposed to do. I don't care how many threats I get from the federal government. Everyone has a responsibility for the region's affordable housing, and every community meets or exceeds what they should with zoning for affordable housing."