Astorino Gives State of County Address, Borgia Offers Rebuttal
We are part of The Trust Project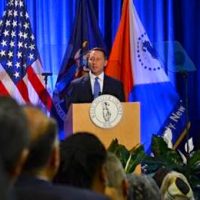 Westchester County Executive Rob Astorino gave his 2017 State of the County Address last Thursday to a packed audience at the Westchester County Courthouse in White Plains. His primary message for the sixth consecutive year was the renewed commitment to not raise taxes with a balanced budget in the fall.
Astorino touted plans for Playland Amusement Park, a $1.2 billion science and technology hub in Mount Pleasant and the potential for $140 million in revenues at Westchester County Airport through a public-private partnership. He also talked about plans to tackle the county's growing heroin and opioid use crisis.
"I was elected to stop the tax madness, and we did just that by stopping the out-of-control spending," said Astorino. "The county budget today is less than the budget was when we took office in 2010. Taxes are still too high, but citizens and businesses know they can count on me to manage their tax dollars smartly and responsibly."
After sharing a personal story of a family who lost their 22-year-old daughter to heroin, Astorino announced Project WORTHY – Westchester Opioid Response Teams Helping Youth, a new plan to attack the growing opioid addiction problem in the county. The program builds on the existing Westchester Safer Communities initiative and will build response teams involving experts in health, law enforcement and mental health and parents, students, clergy and coaches who will work together to identify abuse cases, understand the underlying causes of addiction, and develop pre-emptive strategies. Dr. Mark Herceg, Westchester County's Commissioner of Mental Health, will lead the effort.
Astorino acknowledged the frustration and partisan divides dominating the public discourse across the country and spoke of the importance of listening to a public with opposing viewpoints and working with lawmakers and stakeholders in a balanced, persistent and bi-partisan manner
"As the County Executive for close to one million people, it's my job to find middle ground – balance what divides us – and that's why I have been committed to bringing county government to the people of Westchester and listening to what is on their minds," Astorino said.
Astorino noted gains made in private sector employment, nearly 44,000 new jobs since 2010 and a drop in the unemployment rate to 4.2 percent, while touting a number of other positive developments that make Westchester a desirable place to live and work, such as a 25 percent drop in crime, Westchester's highly educated workforce, the county's placement among the healthiest places in the country, and its ranking as one of the top digital counties in the U.S., among other accomplishments.
Highlighted projects included the North 60 proposal for a $1.2 billion Westchester Bio-Science and Technology Center. Earlier this month, the county board approved a lease with Fareri Associates on 60-acres of county owned property at the Grasslands campus in Mount Pleasant. When finished, the new center will feature more than two million square feet of biotechnology and research facilities, alongside space for medical offices, shopping, a hotel and a Children's Living Science Center. The project is expected to generate $9 million in estimated new real estate taxes; $7 million in estimated new annual rent to Westchester County and 12,000 jobs.
Regarding the Westchester County Airport, Astorino said the county is seeking to enter into a public-private partnership as part of an FAA program. Bids are due back in 90 days. "The idea is to create a long-term revenue stream so that money is coming into the County's budget for decades to come," Astorino said.
The County Executive advised that Playland will be up-and-running this season on May 13 with Standard Amusements investing $60 million in the park for new attractions, restaurants and rides to come on-line in 2018.
Astorino asked the Board of Legislators to join him in a lawsuit to ward off the closure of Indian Point. He cited the potential loss of billions of dollars to the county and local communities. The lawsuit charges that Gov. Andrew Cuomo failed to follow the State Environmental Quality Review Act (SEQRA) before announcing plans to close the plant.
Westchester's proposed lawsuit has nothing to do with the debate over nuclear energy, Astorino said. Its purpose is to ensure that any decision to close Indian Point fully protects the rights and safety of residents and environment by following the law.
Astorino commented on the 2009 federal housing settlement by noting Westchester County had exceeded the requirement to develop 750 units of affordable housing in 31 mostly white communities by December 31, 2016 by delivering 790 units with another 100 in the pipeline.
During his speech, Astorino also cited success in the County's battle against homelessness – including Westchester's Patriot Housing program that helped secure housing for over 500 previously homeless veterans.
In a solemn ceremony, Astorino presented Armando "Chick" Galella of Sleepy Hollow with Westchester's highest honor – the Distinguished Service Award. Galella is one of the few living veterans to have fought at Pearl Harbor. He also was awarded the Bronze Star for his Meritorious Service during the invasion of Okinawa.
The Democratic Rebuttal
In a videotaped presentation, Catherine Borgia, the Democratic Majority Leader of the Westchester County Board of Legislators, gave the Democratic rebuttal, claiming the County Executive's policies had set Westchester back.
"Tonight, with plenty of pomp and circumstance, the County Executive expressed his opinions of the current state of Westchester," Borgia said. "Here are the facts: Under this Administration, our finances have been treated like a credit card. For years the County has been forced to borrow in order to meet basic operating expenses. When you borrow money you have to pay it back – with interest. Democratic Legislators like Ben Boykin have long warned of the enormous budget shortfalls from this practice – and last year, the County Executive's budget stuck you with a $15 million bill."
Borgia claimed that Astorino had tried to negotiate a backroom deal to sell off the County airport to cover his own fiscal mismanagement, and warned that continued borrowing for operating expenses was going to eventually catch up with the County.
She cited the fight by legislators for funding of over $1 Billion dollars' worth of needed repairs to bridges, roads, and infrastructure while the County Executive asked for $25 Million for a new skating rink.
"This administration spends resources in the wrong places because of personal political ambition," Borgia said.
She noted that proposals like Paid Sick Leave, transportation initiatives and the immigration protection act are central to Democratic initiatives.