Astorino Defeats Bramson to Win Reelection in County Exec Race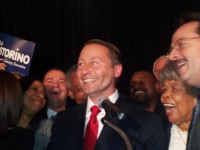 By Molly Stazzone
Westchester County Executive Rob Astorino comfortably won re-election Tuesday night defeating Democratic challenger Noam Bramson.
Members of the campaign team, family and friends joined together at the Crowne Plaza in White Plains to support the incumbent Republican who made it two in a row after handily defeating three-term Democrat Andrew Spano in 2009.
Late Tuesday night, held a roughly 10,000-vote lead (65,329-53,290) with 69 percent of the vote counted, according to the Westchester County Board of Elections.
After Bramson conceded, the entire room of Republicans and Astorino backers erupted into cheers with the crowd chanting "Four more years!"
"I thank you for re-electing me as your county executive," Astorino said to jubilant supporters moments after he declared victory.
Astorino spokesman Bill O'Reilly said the county executive followed through and delivered on his promise of reining in taxes and spending by county government.
"We feel confident and good," O'Reilly said before the votes started coming in. "Rob has kept his promise and has fulfilled it."
A countywide poll released during the campaign revealed that  64 percent of residents agreed the county is headed in the right direction, he said.
While Astorino gave his speech he thanked Bramson for a spirited campaign. He also mentioned that "nothing compares to Westchester."
"A lot of hard work has paid off," said Astorino's campaign manager Phil Oliva.
In his concession speech Bramson wished Astorino well.
"Rob Astorino and I have disagreed on many issues, but throughout this campaign, I have respected his skills as a competitor. I know that he and his family have sacrificed for his service. And as citizens of this great county, all of us should wish him success as he governs Westchester for the next four years," Bramson said.
Bramson said he would now return to the job he loves – serving the people of New Rochelle.