Astorino Assures Public County Hard at Work to Prevent Terrorism
We are part of The Trust Project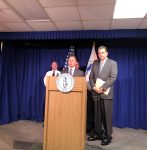 County Executive Rob Astorino assured the public Wednesday that county law enforcement is monitoring potential terror threats within Westchester to prevent episodes while supporting law enforcement officials in New York City.
During a press conference the morning after Tuesday's attack in lower Manhattan, Astorino and Commissioner of Public Safety George Longworth discussed the county's readiness and ability to thwart any potential threat in Westchester.
"Policing today has changed dramatically since pre-9/11 where dealing with acts of terror unfortunately is part of their regular training," Astorino said. "We can tell the people of Westchester that we have the resources, we have the equipment, we have the training, and we, of course, have dedicated law enforcement officers that are here to deter terrorism, but also respond swiftly and effectively god for bid this should ever occur."
Astorino said county officers who are assigned to the FBI's Joint Terrorism Task Force were immediately on the scene Tuesday, gathering information in real-time to asses if there were any further threats, not only in Manhattan and the rest of New York City, but in Westchester.
"The strategies that we employ and the training that we provide to our police and to our fire and EMS is dynamic and it's always changing in regard to what we learn from previous incidents around the world," Astorino said. "Our counter terrorism preparedness is as strong as it can be and every day there are members from the county police engaged in a wide variety of counter terrorism efforts."
He explained that patrol officers carry radiation detection pagers that enable officers to identify a dirt bomb if it passes through the county. The county's Aviation Unit and Marine Unit boats regularly conduct patrols around critical infrastructure locations, including the Tappan Zee Bridge and Indian Point.
Members of the bomb squad are given sophisticated training needed to respond to any incident involving a vehicle-borne improvised explosive device, Astorino said. The county also gathers information from the Westchester Intelligence Center and the crime center at county headquarters.
He added that active shooter demonstrations have been conducted in schools and places of worship throughout the county.
"The incident (Tuesday) was a scary and stark reminder that we live in a very dangerous world with people from everywhere that would do us harm," Astorino said. "We are constantly conducting drills and exercises to improve our capability if an incident occurs."
Longworth said that the county increases the number of counter terrorism patrols when acts of terror occur around the world. He said there will be an increased presence of officers along county parkways, parks, critical infrastructure and populated areas.
"With a million people and a very diverse county, we naturally, with some critical infrastructure, are a target and we know that, so our police department, all of the local police departments, our federal partners and our state partners work together," Astorino said. "That is the most important thing; the communication and cooperation is critical."
With the holidays rapidly approaching and big events often attracting a large crowd, preventative measures are being taken, including heavier police presence and blocking entrances and exits with large trucks to block cars and vans from entering.
Despite the increased police presence throughout the county, Astorino urged the public to speak up if they see anything suspicious.
"Law enforcement can only do so much, but we count on regular people with their eyes and ears and gut instincts to call something in if they see something," Astorino said. "Nobody should be embarrassed to do it, that's what the police officers are for, that's why we have specialized units with equipment to detect this and they are here to serve the public and keep us safe."