Assisted Living, Memory Care Facility Proposed in Mount Kisco
We are part of The Trust Project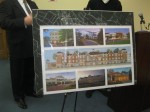 An assisted living facility of at least 90 units is being proposed for Mount Kisco on land that had once been used as a New York City sewage treatment plant.
Radio City Ventures LLC, which owns the site, and Maplewood Senior Living LLC are looking to build the three-story building which would also include memory care services, on 5.7 acres at 2 Morgan Drive.
Last week attorney Charles Martabano, who is representing the property owner and developer, said his clients were looking for a zoning text change from the village. The parcel is currently zoned Research and Development (RD) but there has been declining need for types of industrial uses that typically have moved into that zone.
In a letter to the board, Martabano said that while assisted living facilities are defined in the village code, there is no provision for them to be legally located in Mount Kisco.
"It serves a need," Martabano told the village board at its Jan. 22 meeting.
The sewage treatment plant, owned by New York City, was closed in the 1960s and the land was transferred to the village in the mid 1980s, Martobano said. Immediately after the transfer, the village sold the land to a private entity.
Martabano said that the site, which had been contaminated, would be cleaned up by the developer. The New York City Department of Environmental Protection (DEP) has already been contacted about a remediation plan, he said.
Martabano did not have specifies about what type of contaminants are present at the site.
Thomas Gaston, executive vice president of acquisitions and development for Maplewood Senior Living, said the company operates six other assisted living facilities, five of which are in Connecticut.
"There's a very strong need for it" in Westchester, Gaston said. Only 50 assisted living beds are currently available in northern Westchester, he added.
However, Deputy Mayor George Griffin Jr. questioned the  market for assisted living in the area.
Gaston responded that more assisted living facilities are needed in the region. Some towns in New Jersey towns have three or four, he said.
Mayor Michael Cindrich said the trustees would vote on a resolution next week to ask the planning board for its opinion about the proposed village code text change.
The area's newest assisted living facility, The Bristal, is expected to open shortly on Business Park Drive in Armonk.