We are part of The Trust Project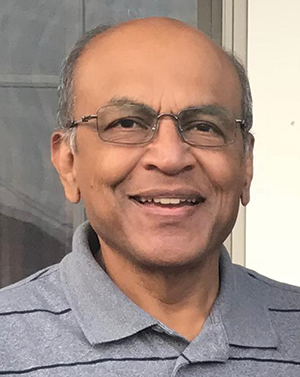 Dr. Arudi Srihari of Thornwood passed away peacefully on June 24. He was 74.
Born in Bangalore, India, he was the son of Adinarayanaiah and Rukmini, who predeceased him. He was one of four children, including his late brother, Srinivas.
Arudi immigrated to the United States in 1971 and became a U.S. citizen in 1981. He met his beloved wife, Susanne, working at Grasslands Hospital in Valhalla and went on to have a long and dedicated career for more than 40 years as a child psychiatrist. He worked in many locations over the years, but most notably spent time helping others at Rockland Children's Psychiatric Center, Putnam Family & Community Services, Catholic Charities and Westchester Jewish Community Services. All who met Arudi knew him as a calm, patient, gentle and wise man who always took the time to listen to those around him who were in need of help.
Arudi, known affectionately as Hari to his close family, was a devoted husband, a loving father, a cherished grandfather and an avid Yankees fan. He led a joyful and deeply unselfish life. His sole focus was the happiness of his wife, his children and his grandchildren; he always put himself last and would have sacrificed anything for them.
Arudi is survived by his wife, Susanne (née Reilly) Srihari; his son, Michael Srihari and his wife, Sandra; his daughters, Neela Srihari and Tara Fink and her husband, Glenn; his four adoring grandchildren, Jack Srihari, Tyler Srihari, Samantha Srihari and Gavin Fink; his brother, Srivatsa and his wife, Sridevi; his sister, Uma; and extended family, nieces and nephews in both the Reilly family and abroad in India.